Cocoa Krispies Cereal Straws, 7-Eleven Hot Dog Lighters and a Zombie Walk!
We're finally getting settled into our new place here in West Hollywood and I'm catching up on a bajillion emails at the moment... not to mention unpacking tons o' boxes too. I'm already liking it here much more, so all is going well with that business. But today I have other business to discuss with you... the business of straws.
Not too long ago, breakfast food companies decided that eating a bowl of cereal was too time consuming for the average joe with a busy schedule. As a result, you now have all sorts of "on-the-go" breakfast options such as cereal bars, pop tarts and more. New to the speedy breakfast club are Kellogg's Cereal Straws. Simply dip 'em in a carton of milk, take a sip and then chow down on your straw. So far I've seen Froot Loops and Cocoa Krispies flavored straws... I chose to try out the later.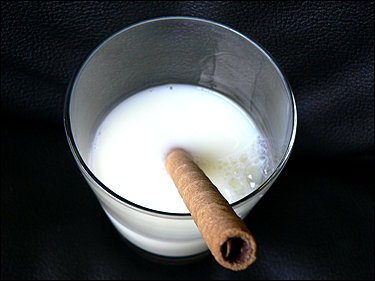 "At home or on-the-go, they're strAWESOME!"
In all honesty, they're not bad at all, but I almost prefer eating them dry as they tend to get soggy real fast. On top of that, sipping the milk up through the straws is weird because they're way thicker than regular straws and obviously more porous. Imagine drinking milk through a cigar (minus the tobacco flavor) and that's pretty much what it feels like. I can't help but think that they're gonna fall apart on me while I'm taking a sip and all of a sudden there will be milk all over the place. Fortunately, the straws are lined on the inside with an extra layer of chocolate, so I guess that helps prevent the milk from seeping through. I was also hoping that the milk would taste like chocolate milk when drinking it through the straw, but it was just like regular ol' milk. The serving size is 3 straws, but that's nowhere near as filling as a bowl of cereal if you ask me. So yeah, while it's definitely something you should try out at least once, it's not a breakfast replacement by any means. At the very least, they do serve as a pretty good snack.
So what cereal brands would you like to see in straw format? I could see Frosted Flakes possibly being good, but I doubt any of the marshmallow cereals would ever work as straws... unless they somehow lined the straw innards with marshmallows? Mmmm, Boo Berry straws.
In other food related news, while it was sad watching the Kwik-E-Mart signs return to their former 7-Eleven selves, I do have some other good news from everybody's favorite convenience store. Feast your eyes on this: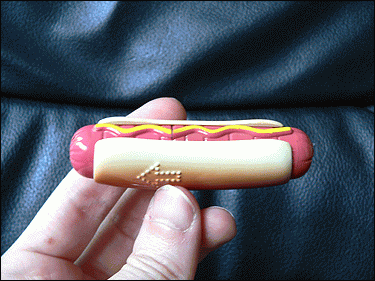 Yes my friends, your eyes do not deceive you... 7-Eleven is now selling hot dog shaped lighters to help promote their "Big Bite" dogs. I've you've ever wanted the joy of possessing a flaming wiener without the agony of contracting a STD, then this the item for you! Simply pull down on one side of the bun while pushing up on the other and a mighty flame will burst from the tip of your hot dog. I don't even smoke but I had to buy this thing... it's easily the best lighter I've seen in ages. And yes, it is refillable, so no need to worry about it becoming useless once the lighter fluid runs out. Tell me the flaming wiener doesn't absolutely rule.
Last but not least, I've been asked to organize a Zombie Walk here in Los Angeles next week, so if you live in the area, drop me an email if you'd like to be a part of it! But it's not a normal walk, this one is gonna be on an episode of CSI: NY! I'll share more details on it later, but to say the least, this is gonna be one hell of a cool way to kick off I-Mockery's 2007 Halloween season! Hope you guys are ready for 2 full months of monster mocking madness, because you won't find any other place on the web that completely immerses itself in all things Halloween quite like we do! As always, if you guys have some Halloweeny stuff you'd like us to cover this season, just drop me an email and I'll keep it in mind.
28 comments
Leave a Reply
Previous post: Onward to West Hollywood we go! Plus, Circus Liquor!
Next post: My thoughts on Rob Zombie's "Halloween"