The Ultimate Halloween Bubble Light!
So today I want to talk to you a little bit about bubble lights. Why? Because I recently went to one of my favorite shops in L.A., La Luz de Jesus, which has some of the greatest books, art and novelty items you'll find anywhere in the country. While walking through the store, I noticed what can only be described as the Ultimate Halloween Bubble Light plugged into one of the walls. I immediately asked the cashier if they sold them, and sure enough, they did. Now, I like a good set of vintage Christmas tree bubble lights as much as the next guy, but this Halloween one truly takes the cake. Feast your eyes on this beauty: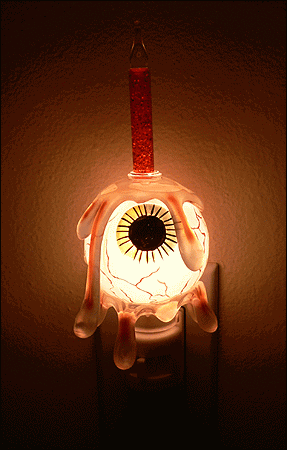 Almost makes you want to shed a tear doesn't it? Even the glitter inside it is black and gold in some bright orange water. Absolute bubbly perfection. I was real happy with how that pic turned out, so here's a large still photograph of it for any of you who want a nice wallpaper image for your desktop. Oh bubble lights... can you do no wrong?
Actually, apparently they can because, with this badass bubbler, comes a set of "important safety instructions for bubble lights." And like any product, the only reason such precautions are included with them to begin with, is because at some point in time a bonehead made the mistake of nearly killing himself with it. Some of the warnings include:
-If vial breaks, do not swallow liquid. If swallowed, call your local poison control hotline.

-If liquid gets into eyes, flush thoroughly with water and contact your local poison control hotline.
Can you imagine just how a phone call like that to your local poison control hotline would go?
Operator: "Poison control hotline, how may I help you?"
Bonehead: "My bubble light broke!"
Operator: "Ok sir, but what does that have to do with you being poisoned?"
Bonehead: "I... I couldn't help myself! I had to drink it!"
Operator: "I'm sorry sir, but we didn't cover 'bubble light poisoning' in our training sessions. Can you tell me what it says on the box for this bubble light?"
Bonehead: "No!"
Operator: "Why not?"
Bonehead: "Because I had to pour the rest into my eyes and now I'm blind too!"
You know, come to think of it, I'd love it if somebody who worked at a poison control center would release a CD of their most insane phone calls. Oh the stories I bet they could tell...
Anyway, I hope you're all enjoying our annual "Two Months Of Halloween" here on I-Mockery so far. We're really scouring the earth to bring you some extremely spiffy Halloween coverage this season. It puts a smile on my face seeing all the stores slowly become Halloweenified while we've already been covering Halloween all month long. Over the weekend, I saw the first one of those "Spirit" seasonal Halloween shops pop up in Burbank, but their selection was pretty bad. Maybe it's just because it was still early September, but the stuff they had in the shop just didn't compare to previous years. Even more odd was a huge section in the center of the store that they were using to sell framed poster prints. No, not Halloween poster prints, but random "oldies" posters ranging from photos of Marilyn Monroe to James Dean. It just didn't feel right. Fortunately, there are plenty of other stores in the area that are already doing Halloween the justice it deserves. Why, just the other day I picked up one of the most hilariously cheap Halloween gems you'll ever lay your eyes on... but you'll find out all about that later this week.
So what fun Halloween stuff have you guys seen in your towns so far? Anything I should know about? As always, feel free to make suggestions for anything else you'd like us to cover on the site this Halloween season!
p.s.: I hope you've been collecting all of Max's "Scary-Ass Cards: Series II" so far because there are plenty more to come! More Halloween contests coming soon too!
22 comments
Leave a Reply
Previous post: My thoughts on Rob Zombie's "Halloween"
Next post: Halloween Candy Prototypes That Never Saw The Light Of Day!