Halloween Candy Prototypes That Never Saw The Light Of Day!
I'm sure many of you read my big piece last year about the Ultimate Guide to the Halloween Candies of 2006, and while I definitely have another one of those planned for this season with all new candies galore, there are some candies that we won't be seeing on the store shelves. Not this year or any other year for that matter, I'm sad to say. Fortunately, Dave Jupp (who designs candies and their packaging), was nice enough to contact me after reading my article to share some pics of his insanely cool candy prototypes that were unfortunately turned down by Target.
Anyway, let's get down to the good stuff with a look at some of the fantastic Halloween prototypes from the Chef Goul-R-Dee pantry of candy. If you want to see larger close-up versions of these photos, just click on any of them and they'll pop up in a new window.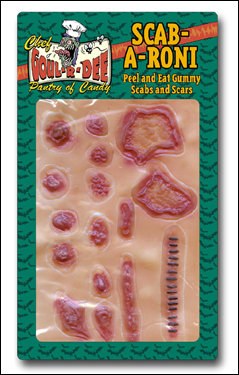 click to enlarge
First up we have Scab-A-Roni. That's right, edible scabs! Who wouldn't want to peel scabs and scars straight off o' some flesh for a tasty snack? Gotta love it. I could easily see them making Fruit Roll-Ups with these on 'em for Halloween... I mean, they have countless other peel-off shapes on 'em, so why not scabs 'n scars too?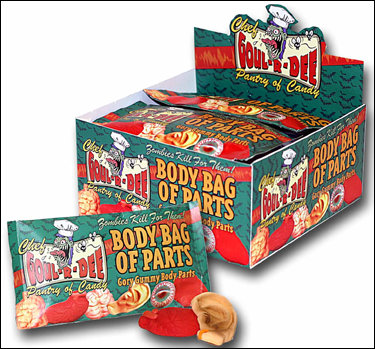 click to enlarge
Next up is the Body Bag of Parts, and while candies shaped like body parts aren't too unusual during Halloween season, it's the little details that make these ones special. Whether it's the arteries and blood vessels on the heart or the glob of earwax dripping from the ear, these candies just offer that extra special something for a truly distinguished horror candy feast.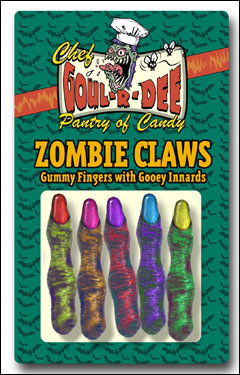 click to enlarge
Now here's one that I never thought of... candy Zombie Claws! I understand that having claws can certainly help zombies tear their victims apart to get to the braiiiiiiiiins quickly, but I never knew that they were so colorful! Maybe they're born with it. Maybe it's Maybelline!

click to enlarge
Last but certainly not least we have Just The Heads fish heads candies. Out of all the candies, these are definitely my favorites of the bunch, and therefore, the most heartbreaking since they were rejected. Fish heads are constantly discarded by fishermen, can't we as a society at least find a use for mock fish heads in candy form?
And there you have it, a bunch of candies that never were, but should've been. After seeing them along with what the store display would've looked like, I personally think Target made a big mistake by not going with these. On the plus side though, there will be a new and improved Box of Boogers this year. Dave assures me that this time, they'll both taste better AND look far more realistic than ever before. Really looking forward to eating those boogers! Man, now that's something I never thought I'd be typing.
Survey #1: If you were designing a novelty candy for Halloween, what would it be and how would it look?
Survey #2: Most towns have some Halloween stores popping up by now, so which of you people are going to check 'em out this weekend? Going searching for anything in particular?
Up next in the blog, The Lost Art of Quality Horror Movie Posters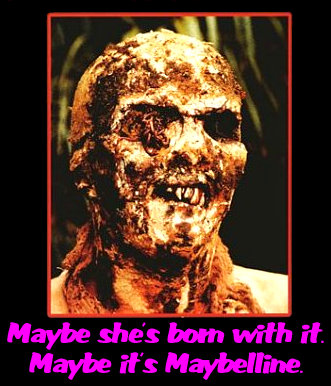 28 comments
Leave a Reply
Previous post: The Ultimate Halloween Bubble Light!
Next post: The Lost Art of Quality Horror Movie Posters