Halloween Infiltrates Christmas For A Change!
For as long as I can remember, I've thought Halloween has been fighting a losing battle against Christmas. I'm not saying the two holidays are at war with one another and there's certainly room for the both of 'em since I firmly believe you can never have too many excuses to take a holiday (and I happen to like a lot about Christmas too), but I do think Christmas starts popping up too early each year as if to say, "No Halloween, you're not allowed to have the spotlight all to yourself." If you've been in any retail stores, I'm sure you know exactly what I'm talking about as many of them already have a bunch o' Christmas decorations up for sale and it's not even October yet.
So I consider it a rare thing when Halloween actually gets a chance to invade the Christmas holiday season a little bit for a change. Sure, there are always movies like "A Nightmare Before Christmas", but having worked in a video store in the past where one of the employees was completely obsessed with that movie and played it nearly every goddamned day, I grew to hate it. It's too bad too, because I actually liked that movie before I started working there. Still, there are plenty of good Christmas-themed horror movies out there such as "Jack Frost" and "Silent Night, Deadly Night" - so at least we're covered in terms of video entertainment.
You can also get a damned fine Halloween Tree and use it both in October and at Christmas time: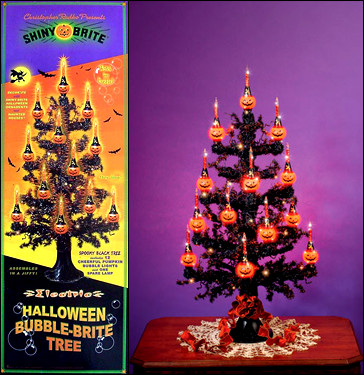 It's Radko's Shiny Brite Halloween Bubble-Brite Tree! This thing has not one but TWELVE glowing pumpkin bubble lights built right into it and I think you already know about my feelings with it comes to bubble lights. Unfortunately, the drawback of a tree like this is that it's small, and let's face it... the bigger the tree, the more room there will be more room for presents underneath it. More presents equals a happier you - or at the very least, more store credit when you take it all back because you didn't want any of that crap they bought you to begin with. So while the Halloween Bubble-Brite Tree is one hell of a cool decoration, I don't see it ever replacing a real Christmas tree for most people. Still, when I went to my local Michaels store the other day, I found some new Halloween items that could easily serve you well come Santa season.
Now most people simply know Michaels as an arts & crafts store, but the fact is, they really do go all out come Halloween each year. I always make a point to go in there a few times every year during Halloween season, if for no other reason, to check out the fantastic Lemax Spooky Town displays. If you haven't seen them before, you have no idea what you're missing out on. Sure they have a Christmas Town series too, but who wants to look at happy kids ice skating with glee when they can look at something like "Dr. Stretch N. Pull's Torture Factory" or "The Rest In Pieces Mausoleum"?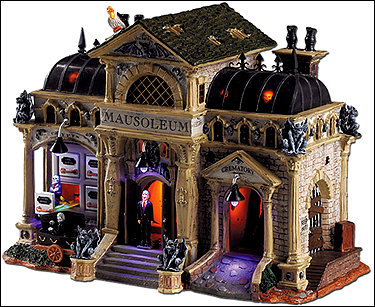 Even my grandma would agree that the latter sounds far more interesting. Some day, many years from now, I swear I'm going to get a house and dedicate an entire room to having the largest "Spooky Town" display that I can possibly fit in it. For those of you who don't have a Michaels near you, check out this video which showcases some of the many Spooky Town buildings and accessories and how you can create one hell of a cool display with 'em.
So, until I have an entire room that I can dedicate to nothing but animated Halloween displays, what am I to do come Christmas time? It's quite simple really...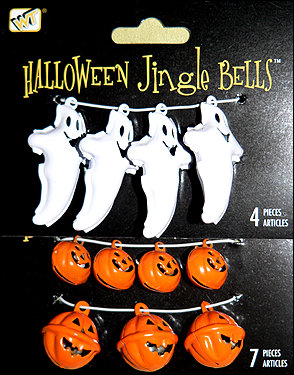 Halloween Jingle Bells!
Found these guys at Michaels the other day and they're the perfect, subtle way to have a little Halloween goodness mixed in with all of your Christmas fun. Best of all, they won't take up an entire room in your house or send you on a nosedive into crippling debt (which is something I'm sure the Spooky Town collection will one day do to me). Jingle jangle...
Survey: What are some other ways you've seen Halloween "infiltrate" the Christmas season?
Also, on a semi-unrelated note, be sure to participate in our latest Halloween contest. I got inspired by our fun horror movie posters discussion in my previous post, so I started up a contest where you guys can make your own. The horror, the horror...
45 comments
Leave a Reply
Previous post: The Lost Art of Quality Horror Movie Posters
Next post: Boo Berry, Eyegore Awards, Halloween Horror Nights and more.