Boo Berry, Eyegore Awards, Halloween Horror Nights and more.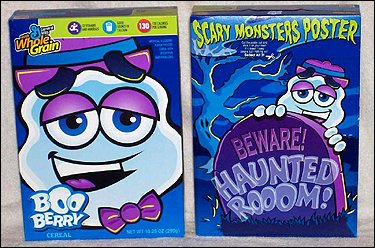 Boo Berry is back in stores again, but this year, they didn't even change the box or offer anything new. Even the poster on the back is the exact same as last year! Now, I was about to be completely annoyed with General Mills when I found out that they DID put out something new for Boo Berry this year after all: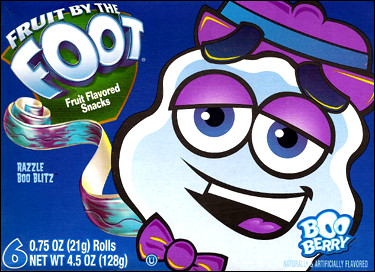 Now this is very unexpected... Boo Berry appears to have joined forces with Fruit By The Foot for an all new "Razzle Boo Blitz" flavor. While there's no indication on the box that these are a limited edition flavor, I would stock up on them now while you can because I'm pretty sure they won't be easy to find after Halloween is over with. I haven't found a box of 'em myself and can't comment on the flavor yet, so I'll have to get back to you guys on that one as soon as I find some. Looking forward to eating 3-feet of Boo Berry goodness. (update: after looking more into it, it looks like GM just slapped Boo Berry's face on a Fruit By The Foot flavor that's already been around for a while.)
But as far as the cereal boxes go, come on General Mills... we wait all year long for this stuff. The least you can do is provide us with a little something more than you offer with your normal cereals. Throw in some Boo Berry themed toys or stickers or something in the boxes if you're not gonna at least do a new design for chrissakes.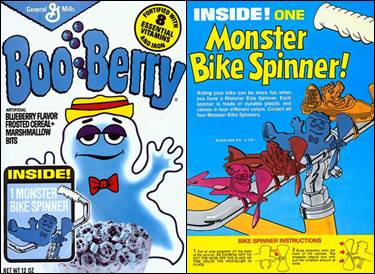 You included cool cheap stuff with boxes in the past... so it's not like we're asking for too much here.
In other news, next Friday we'll be attending the 5th annual EyeGore Awards "Scaremoney", which will be honoring people such as Roger Corman, Patricia Arquette, Don Mancini, Corey Feldman and more. But the best thing about it? Michael Berryman is going to be hosting the event as the "Master of Scaremonies". It should be a really cool event and after we're done there, we're heading straight to Halloween Horror Nights at Universal Studios.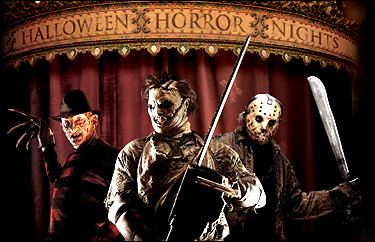 This year is promising to be their best one yet as Freddy, Jason and Leatherface are all going to be there. What's great is that each of these areas will be treated much like the movies. For Jason, we'll be going to Crystal Lake, for Leatherface we head on over to the Hewitt house, and for Freddy we'll not go to the asylum where he was born, but we'll experience some of the dream sequences from the movie (the Roach Motel scene from Elm Street IV is supposedly one of them!). Naturally, the classic Universal Monsters such as Dracula, Wolf Man, and Frankenstein will be there as well. Even Chucky from Child's Play is supposed to be there. So yeah, expect a lot of great photos from those events and more. (here's the commercial for HHN for those of you who are interested. I wonder if Robosaurus will be there again...)
I'm also happy to report that production is going extremely well on our super-secret Halloween flash game! It's so secret that I might be killed for even mentioning its very existence, but that's the risk I take to bring you guys the latest and greatest news. You can expect our big Halloween game to be unveiled sometime in late October. Until then, have you experienced the horrors of our Haunted House Candy Hunt game yet? If you haven't fought the grim reaper and taken his candy, you don't know what you're missing out on. Who wouldn't want to be a Jedi of Halloween?
One thing I can tell you about this game is that it *should* have all original music by yours truly. I finally got my new MIDI controller (the M-Audio Axiom 25 for you music hardware tech geeks out there) and I'm gonna spend a lot of time figuring out how to get it to do what I want over the next month. It shall OBEY! I've also had to write more text for this game than probably all of my previous games combined, so it's been a lot of fun so far... time consuming as hell, but fun.
On a final note, this Sunday (9/30) also marks the return of my current favorite TV horror hero: Dexter. That's one hell of a good way to say goodbye to September and hello to October if you ask me.
And on a final-er note, make sure you enter our kick ass "Create A Horror Movie Poster Contest!" going on in the forums right now. There are some truly killer entries so far that you've gotta see! Hope you all plan to participate in the contest (if you haven't already).
Survey: We all have particular horror movies that we absolutely must watch once every year come October. For me, it's without a doubt John Carpenter's "Prince of Darkness". It's primarily because I always thought it was one of the few truly scary/eerie horror movies ever made and I love the storyline. So how about you guys? What's at least one horror movie that you always make a point to watch every October to help get yourself into the Halloween spirit?
31 comments
Leave a Reply
Previous post: Halloween Infiltrates Christmas For A Change!
Next post: Halloween Candy Week! Plus, Re Sings "Everyday Is Halloween"!