Happy Halloween! I-Mockery Zombies on CSI: NY "Boo" Episode Tonight!
I've been pulling all-nighters for the past two weeks more or less and I'm dead tired, but looking forward to going out for Halloween tonight... ALL night! I don't have much time to post, so I'll make this fast.
HAPPY HALLOWEEN everybody! Hope you all have a great time out there doing whatever it is you do tonight... whether you're trick-or-treating, at a Halloween party or just watching some horror movies... enjoy it! This night comes only once a year and it's the most important night of 'em all (don't argue with me on this, it's not an opinion, it's a fact.)
Also, be sure to watch CSI: NY tonight (10pm et/pt) for the "Boo" episode. I was asked to organize a zombie walk for this episode by the producers and myself, Re and Dr. Boogie were all in it along with other friends. You might see us walking around during the episode. She was a zombie kid with big pink hair, pajamas and a teddy bear. I was a zombified boy scout from troop 666. Even cooler? The episode was directed by Joe Dante (Gremlins, The 'Burbs, Twlight Zone: The Movie, etc.) so it should come out really well!
I'll be posting a full gallery of photos from our CSI: NY zombie appearance, but here's a little teaser: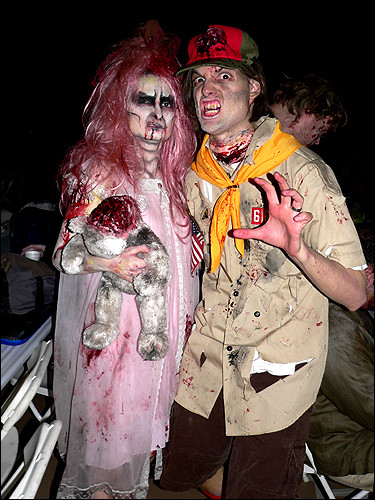 Neato huh? I also did a radio interview recently about Zombie Walks, so I'll put that mp3 up as soon as I have a chance. In the meantime, you can bring me into your home with my Splattrax commentary on "The Blob" remake from 1988 starring Shawnee Smith (from the "Saw" films) and Kevin Dillon (from "Entourage")! It's like having me sit in your house and make fun of a horror movie, only I can't eat all your food and stink up your bathroom, so it's a win/win situation for you. Check it out here!
Anyway, as promised, we ended the Halloween season with two of the largest I-Mockery projects to date so please check them out and let us know what ya think!
Trick-or-Treat Adventure Quest:
http://www.i-mockery.com/minimocks/trickortreat-adventure-quest
Count Pop's Halloween Hootenanny Hullabaloo:
http://www.i-mockery.com/minimocks/countpop4
And of course, don't forget our annual Select Your Destiny story:
Video Game Voodoo:
http://www.i-mockery.com/minimocks/cyoa8
Again, have a great Halloween everybody!
UPDATE 9/3: For those of you who sent in all 19 of Max's "Scary-Ass Trading Cards", I've received them all and I'll be sending out your 20th cards over the next couple of days. Had a TON of people send these in and I've got a lot of emails to send out, so please bear with me.
21 comments
Leave a Reply
Previous post: AMC's Monsterfest is finally here!
Next post: My appearance on the Deminski & Doyle morning show 97.1 WXYT-FM in Detroit