According to Amazon.com, "Maniac Cop" is a holiday classic.
So I was browsing through Amazon.com's selection of holiday classics on DVD which has everything from Frosty the Snowman and Lassie's Christmas Stories to A Christmas Carol and Jingle All The Way (the last of which I'm still waiting for a sequel), but imagine my surprise when I found something that really didn't belong there.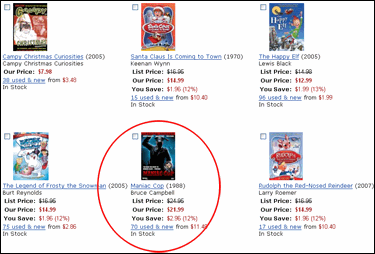 Right in the middle of page two of their "Holiday Classics" was none other than MANIAC COP. If this wasn't intentionally done by an employee with a good sense o' humor, that's gotta be one of the greatest screw-ups I've seen on their site over the years. The awesomely enormous face of Robert Z'Dar must have an equally enormous smile today.
Maybe next year they'll feature I Spit On Your Grave as a holiday classic too. From this day forth, I'm trusting Amazon.com with all of my holiday DVD recommendations.
10 comments
Leave a Reply
Previous post: Hard at work on the new I-Mockery, plus No Country for Old Men
Next post: Thanksgiving is sneaking up. Who's gonna fry a turkey?