Thanksgiving is sneaking up. Who's gonna fry a turkey?
I don't know how it's snuck up on us so quickly, but turkey day is almost here already. Naturally, I'll be making a point to watch the greatest Thanksgiving movie of all time: Trains, Planes and Automobiles. If you haven't seen it before, get your ass to the video store and rent... no, scratch that... BUY it. It's pretty much one of the greatest "buddies on a road trip" comedies you'll ever see.
While I've never been that much into Thanksgiving, I admit it feels wrong to not spend it with some family and/or friends. This year, Re and I aren't gonna fly back to the East coast because (just like the aforementioned movie teaches us) traveling during this time of year makes your average trip to the DMV seem like a warm, fuzzy memory. Fortunately, some of our friends are throwing a "eat your weight in turkey" party. Granted, there are rumors that said "turkey" will be substituted with "pizza", but I'm fine with either one. Wait, I'm thankful for either one. After all, pizza was one of the things served at the very first Thanksgiving you know. What, you don't believe me? Then explain to me how images like this exist on the web?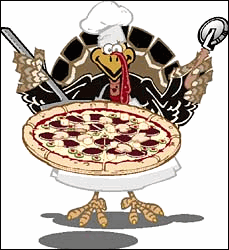 You can't argue with logic like that.
I'd also like to know who here, if anybody, is gonna be deep frying a turkey. It's something I've never done before but my interest in it increases every year... mainly because the only time I hear about deep frying turkeys is when somebody ended up burning down their house while attempting to do so. Still, if it makes turkey taste better, I'd be up for trying it sometime. For those of you who are uninitiated with turkey frying, here's a safety video from the fire department and Underwriters Laboratory warning you of the dangers of turkey fryers!
Clearly, the best way to deal with potential turkey fires is to load the fryer onto a catapult before cooking the turkey. That way, should a fire break out, you can jettison that flaming bird into the air, and once it's off your property and crashing through your neighbor's roof, it's no longer your problem. Trust me.
Well anyway, wherever you are and whatever you're doing this week, I hope you guys have a spiffy time. Gobble, gobble. Pizza, pizza.
Survey: So what are you doing for Thanksgiving? Staying home? Visiting family? Robbing a liquor store? Inquiring minds want to know!
22 comments
Leave a Reply
Previous post: According to Amazon.com, "Maniac Cop" is a holiday classic.
Next post: I've been working hard. Hope Santa's watching.