I've been working hard. Hope Santa's watching.
Sorry about all the blog silence lately, I've just been swamped with work on our huge site relaunch. It's one of those projects that you can't wait to show people, but it never seems to end because you always find more things that need work done. But man oh man, the site is gonna be one hell of a fun place to be at once we get all this new stuff goin!
The good news is, even while all this site relaunch stuff is going on in the background, we're still cranking away on a flurry (ho ho ho) o' Christmas holiday articles for this month. I've got a big feature that should be coming out later this week or early next week... and it's about an old flick I've been meaning to cover for a loooooooong time. Looking forward to putting the wraps on that one. Well anywho, it's 3:15am and that means I should be doing one thing. No, not sleeping! There's more work to be done on the site relaunch!
But before I go, I must leave you with a few photos from our recent Thanksgiving feast since I promised them to you guys earlier and I'm a man of my word. And as you're about to see, bird is the word...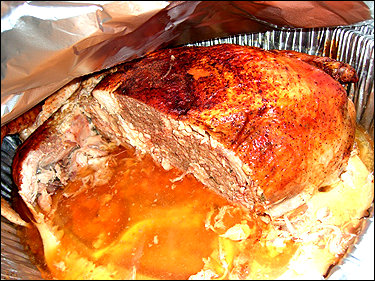 Turkey + Duck + Chicken = Turducken!

A meat eater's dream come true and a vegetarian's worst nightmare, the Turducken is a feast within a feast within a feast! As I've stated before, I've never been a fan of turkey, so this was a nice change what with the cajun spices 'n all. Mmmm...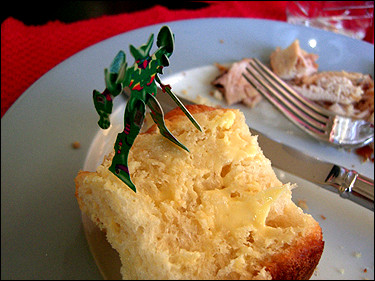 Biscuitor, The Mighty!
That last pic is actually a prize I got in my Holiday Cracker, which is a traditional item some friends of ours from Britain introduced us to a little over a year ago. For those of you who are unfamiliar with holiday crackers, here's what they look like: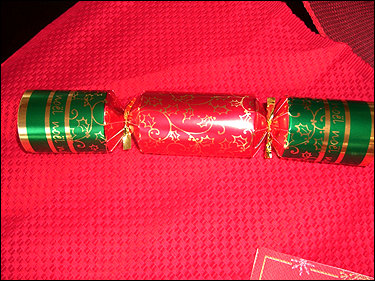 It's basically a party novelty item made of sectioned cardboard tube (kind of like the center of a roll of toilet paper) covered in holiday wrapping and you have two people grab the opposite ends of it and pull. When you pull them apart, it lets out a loud snap like you'd hear from a cap gun and then you get to enjoy a little surprise inside (in this case, I got a cardboard robot puzzle who I named "Biscuitor, The Mighty" since he guarded my buttered biscuits with his holiday RAGE). They also usually include some slips of paper with bad jokes on 'em. Honestly, no holiday party should be without these things, and considering that it doesn't cost much for a full box of 'em, you're really not getting the most out of the holiday season without 'em. Did I mention you also get a nifty paper crown to wear with each one too?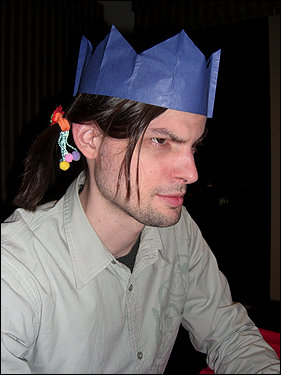 Me? I'll take any opportunity to be a king that I can get. Even if it means wearing the girly squidlike polkadot hair tie monstrosity that Re won in her holiday cracker. Oh the sacrifices that one makes to be king of the dinner table...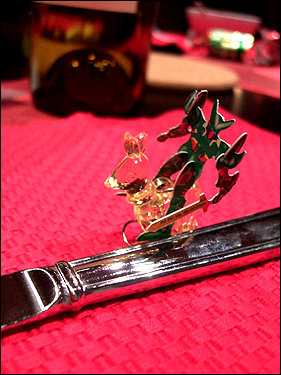 At least Biscuitor was able to ride off in glory on his newly acquired steed (a translucent reindeer keychain that somebody won in their cracker). Keep on fighting the good fight Biscuitor, keep on fighting the good fight...
31 comments
Leave a Reply
Previous post: Thanksgiving is sneaking up. Who's gonna fry a turkey?
Next post: The Christmas Pickle, The 2007 Jack In The Box "Holiday Jack", Meeting Scut Farkus and Secret Santa stuff!