A New Year, A New I-Mockery!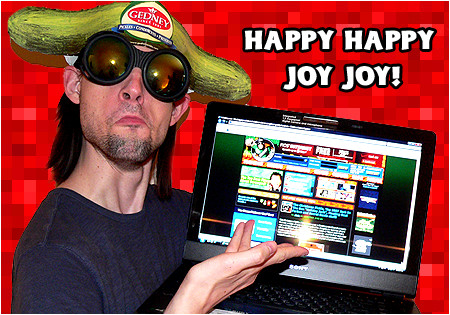 Notice anything different? Yes indeed, the huge redesign we've been working on for waaaaaaaay longer than I care to admit is finally up and running! Considering how long it's taken us to get this massive project off the ground, it's really exciting to finally unveil it to you guys.
So what exactly has changed on this big crazy place we call I-Mockery? Well, lemme break down all the new features for you:
-A New Site Layout: As you can tell, the site has a much nicer (and wider) design. The days of 800x600 screen resolutions are a thing of the past and I'm more than happy to help push the envelope as far as that stuff goes. This new design not only looks better and loads faster, but it's also allowing us to fit a whole hell of a lot more fun content on the site. I gotta say, it's really nice to finally be able to go to all the different sections of the site and see everything in a more unified style.
-The New "Weeklies" Section: If there's one thing I've been really looking forward to with this redesign, it's gotta be the launch of this brand new "Weeklies" section. This new area is divided up into 4 categories - Video Games, Movies, Comics and Music. So what in the hell makes this new section different from all the other content on this site? Well, frankly it's a fun way for us to talk with you guys about all the stuff we love (and the stuff we love to hate) as we rate each thing on a 1-5 pickles scale. In addition to our regular articles on I-Mockery, we'll be updating each of the 4 Weeklies categories with at least one new review per week! Which leads me to the next feature...
-User Accounts: We finally have real user accounts here on I-Mockery that will allow you to post your thoughts about any reviews we make - and they'll always be absolutely free. No longer are you confined to the forums to do such a thing. All articles from this day forth will have an area for user comments directly below them. The Weeklies section is also geared specifically to having you guys share your opinions with us about the movies, games, comics and music that we review every week! You'll also get to give yourself a user avatar to go with any comments you post, and who doesn't love avatars? You can also make a profile page for yourself for others to see and we'll eventually be adding more features to your user accounts in the not too distant future as part of "Redesign - Phase 2". Boy, doesn't that sound official? Well anyway, you get the picture.... now is definitely a good time to register a free user account for yourself and start blabbing with us.
-The New And Improved Blog: When posed with the question "Rog, how can you possibly make your blog, the most amazing blog ON EARTH, even more entertaining?" I unleashed a chortle of gargantuan proportions upon that interviewer in my head and told him all about my idea to make this a TRUE I-Mockery blog by having all four writers participate in it on a daily basis instead of just me. That's right, from now on, you'll see posts from Dr. Boogie, Max Burbank, Protoclown and yours truly here in the new and improved I-Mockery Blog. On top of that, the new blog is embedded on the I-Mockery homepage so you can see snippets each day from what we're posting about before you go in and read the full posts! Keen! As if that's not enough, we've also added user account compatibility to the blog! What that means is, if you're logged into your user account, you can use it to post comments in the blog with your avatars 'n all! If you're not logged in, you can still comment anonymously (only in the blog, not on other areas of the site) but who would wanna do that now that you can get those spiffy user accounts, right? RIGHT.
-A Search Feature: If there's one thing more people have asked for on I-Mockery, it's a Search feature! Well, you guys asked for it and now you've got it. No longer do you have to scroll through our seemingly endless archives trying to find the articles of yesteryear, now you can just do a quick search from anywhere on the site because it's always included in the top menu just like your user account features are!
-Forums Condensed: We got rid of a lot of the old kitschy sub-forums that never saw much activity and merged them with the larger, more popular forums on I-Mockery. As a result, the forums are now nicely condensed and it's easier to find exactly where you want to go to talk about whatever's on your mind with the rest of the mockers!
-Index Pages Reorganized: The index pages of our main sections are no longer crammed so closely together and hard on the eyes. Now you can easily scroll through them and we've also added some categories to a few pages such as the Games and Comics areas.
Hell of a site redesign eh? We really wanted to go in and rip out I-Mockery's guts and fill it with shiny new guts that will dazzle your eyes more than the Japanese Seizure Robots could ever dream of doing. Again, we've just completed Phase 1 of the redesign and we're going to start on Phase 2 immediately. Phase 2 will involve redoing all of the old I-Mockery articles so that they match this new site format as well and so that you'll eventually be able to post comments on any of those old article pages as well (You'll know an article hasn't been converted to the new style yet if you see a nauseated PickleMan resting at the top of the page). Phase 2 will also involve adding more features to your user accounts along with other goodies to improve The I-Mockery Experience™. We just had an insanely active / busy holiday season between Halloween and Christmas, and now with launch of this huge new redesign, 2008 just might be the best year for I-Mockery fans yet. We've got so much cool stuff in store for ya I can hardly wait to get to work on all of it, but most of all, I'm really excited about the opportunity to interact with you guys on a daily basis now that you'll all have user accounts that you can post comments with.
Think of it this way - we're gonna keep doing the same amount of pieces for the site that we've done every week, but now you're also getting a bare minimum of 4 additional updates to the new Weeklies section each week AND you're getting a hell of a lot more activity in the I-Mockery blog each week as well. All this for the low, low price of... FREE. What a deal, what a deal...
Ok that does it for the big site news. Make sure you go register an account and start joining us for discussions in the Weeklies section, the blog, the articles and in the I-Mockery forums. Before I go, I have to thank a few people who really helped out with this redesign project more than they probably know:
Thanks to Re (Strange Puppets) for constantly giving me feedback on the site redesign and doing countless revisions with me. We probably came up with over 40 different styles for how this site could've looked before we created the right one. A lot of sites don't care as much about how their design looks, which is why there are a bajillion web 2.0 cookie cutter sites out there, but coming from a web design background, having this site maintain this unique look was always very important to me and Re helped make sure it never lost that.
Thanks to Shawn (Cfr5) for picking up the pieces where our old programmer left off. He's truly worked wonders with was some hellaciously mangled code. He's also now gotta be the world's foremost expert on hacking apart our forum software to make it work like we need it to. He doesn't fear the code... the code fears him!
Thanks to Andrew (Aversionline) for coming in late and saving our asses with his CSS wizardry. If you notice that this site looks just about the same in any browser and loads about 50 times faster than it used to, it's almost all because of his CSS code. He and I are also both determined to kill Internet Explorer because of the many asinine ways it manages to screw with your head when trying to code a web site that displays properly in it.
Thanks to Dr. Boogie, Max Burbank and Protoclown for stickin' by me side all these years and for helping make I-Mockery what it is today.
Thanks to Chojin for continuing to to be the sheriff on the I-Mockery forums, and for helping condense them into a much easier format for people to use. Nice shootin', Tex!
And of course, thanks to YOU for reading I-Mockery. It's pretty spiffy you've made I-Mockery a stop on your daily internet travels when you could just as easily head outside for some fresh air. Actually, that air outside? It's probably poisonous, so you're better off staying indoors reading this site anyway.
Ok that about wraps it up for the big site redesign news. Have a Happy New Year and we look forward to rockin' your pickles in 2008!
54 comments
Leave a Reply
Previous post: The Christmas Pickle, The 2007 Jack In The Box "Holiday Jack", Meeting Scut Farkus and Secret Santa stuff!
Next post: This ain't your daddy's I-Mockery no more.