Golden Globes canceled!? Oh noes!!!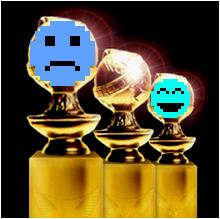 Recently, one of my coworkers informed me that the Golden Globe awards had been canceled. Obviously I was positively distraught. How, I asked him, will I be able to go about my daily routine knowing that I'm going to miss the Golden Globes this year? He then tried to explain to me that the Golden Globes is a very important event that "affects everyone." I was curious, so I asked how it was going to affect, say, me for example. He backpedaled and explained that he was talking about the entertainment industry, and so I concluded that it has no effect on people outside the industry. Not so, he assured me, and soon, all the people around me were trying to explain just how important both the Golden Globes and the Oscars are to not just the entertainment industry, but the entire world.
Now, it's not unheard of to hear something like this in LA. A lot of people out here are absolutely obsessed with the entertainment industry, and they are unable to even consider the notion of it not being the center of everyone's universe. One of my coworkers even dared to suggest that the Oscars were as important in the Midwest as the Superbowl. I'm from Illinois myself, so I gently explained to him that not all the people in the Midwest consider a self-congratulatory gesture from Hollywood to be as important as any football game, let alone the Superbowl, but he seemed unconvinced.
I wonder, though, how important are the Golden Globes and the Oscars to all of you? For me, they're a blurb on the front page of the Entertainment section of the paper, but some people seem to think they're worth noting. Why, one of my coworkers even said that these events are enjoyed by many people outside of the US (and not just by US citizens abroad, either). Do any of you folk enjoy these events, and if so, do you really watch? Or do you just watch clips of the aftermath on Youtube, because that's not the same. I won't think less of you if you do enjoy them...
Well, ok, I'll think less of you, but I certainly won't say so to your face.
47 comments
Leave a Reply
Previous post: One More Introduction
Next post: In Which I Consider The Writer's Strike