Hey, Comic Nerds.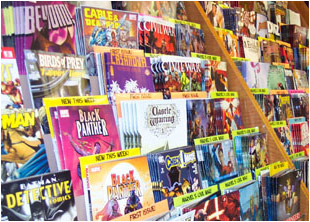 Now before you get your Wolverine panties in a bunch over me calling you nerds, you can rest assured that I'm one too. Now that we have that out of the way, a lot of people have inquired about what comics I read on a monthly basis. I mean, it's pretty obvious from my Longbox columns what comics I don't like, but what ones do I actually enjoy reading (or hate myself enough to keep buying)?
So I figured I'd share my "pull list", and then maybe you can show me your "pull list", and then maybe we can go somewhere private and pull each other's lists for a while.
100 Bullets
Action Comics
Amazing Spider-Man (fired)
American Virgin
Angel
Astonishing X-Men
Batman
Booster Gold
The Boys
Brave and the Bold
Buffy the Vampire Slayer
Captain America
Conan
Criminal
Crossing Midnight
Countdown (ugh)
Daredevil
Detective Comics
DMZ
Exterminators
Fables
Fallen Angel
Fantastic Four
Gen 13
Green Arrow/Black Canary (on probation)
Hellblazer
Immortal Iron Fist
Incredible Hulk (fired)
Jack of Fables
Justice League of America
Justice Society of America
Ms. Marvel
New Avengers (on probation)
Powers
Punisher
Runaways
Scalped
Thunderbolts
Toyfare
Ultimates 3
Uncanny X-Men
Wonder Woman (shut up)
X-Men
Y-The Last Man
My god, look at all the money I spend on comics. I must be insane. But I do have a lot of disposable income.
So what books are you following?
61 comments
Leave a Reply
Previous post: My New Aquatic Pets
Next post: Orbitz, The Lava Lamp Of The Beverage Industry, Still Exists!