Doing The Dishes Is Like Tetris.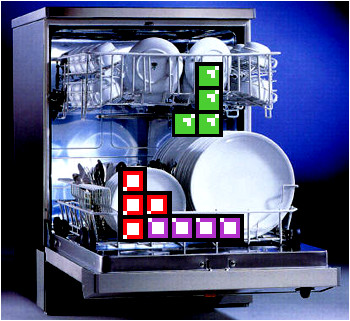 I know it's a fairly typical thing to say, but I really do hate doing the dishes. I hate it so much that I've often considered replacing all the dishes we own with disposable paper plates, dixie cups and plastic cutlery (sporks optional). Aside from the inherent wastefulness of going down that route, I think one of the main reasons I can't bring myself to do it is because most plastic cutlery is too weak (for example, try cutting an onion in half with a plastic knife). So yeah, I'm definitely gonna stick with real dishes until I can figure out a better solution. I also know that I shouldn't even really complain about doing them since having a dishwasher can actually be a luxury depending on where you live. I've lived in places where I had to do all the dishes by hand and that's an entirely different level of annoying.
Now while I hate doing the dishes, I must admit that I always get this odd satisfaction after I've managed to cram way more dishes into one dishwasher load than you would think was humanly possible. It's a delicate act of making sure you put the right cups and plates in their correct spots, just like placing blocks in their correct spots in a game of Tetris. I even line the silverware up in a specific way to ensure that I can fit more of them in there so that they'll still get clean but not prevent the door from being able to shut. But here's where I get even more ridiculous with the dishwasher loading situation: I actually get annoyed when Re throws off my dish loading system. "You put one of the tall cups in the fourth row towards the back? What in the HELL were you thinking!?" All I get in return are blank stares or a reminder from her about what a freak I am... and rightfully so.
I fully recognize this as a totally nitpicky, OCD-like quirk of mine and nobody in their right mind should feel like they just accomplished something great upon the completion of loading a dishwasher. It's really nothing special. Furthermore, it's only necessary for me to cram so many dishes into the washer in the first place because I always procrastinate doing them until I'm literally using our rubber tupperware covers as makeshift plates. Nothing says "classy" like eating fish sticks and rice off of an inverted Rubbermaid cover because I didn't run the dishes.
Still, at least I can hold my head high, for I am the Master of Dishwasher Tetris. If they had competitions to see who could load the most dishes into a single dishwasher, you can bet your ass I'd be taking home the first place prize. And no, I'm not breaking out rulers and protractors or anything like that in order to calculate how to squeeze more dishes in there... that's for the math nerds. I'm a natural dishwasher loading talent. The Dish Whisperer if you will. If you just stop and take the time to listen to the dishes, they'll tell you where they want you to place them in the dishwasher.
Somebody please tell me I'm not the only one who does this kind of shit.
46 comments
Leave a Reply
Previous post: In Which I Offer Up My Obsession With Zac Efron
Next post: The License Plate