The License Plate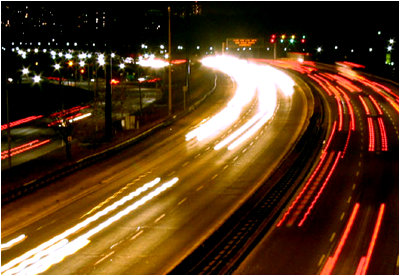 It's very uncommon for me to see anything particularly noteworthy on my drive home from work. Yesterday, however, I saw something quite unusual, and it was on the car in front of me at the entrance to the highway. It was far more eye-catching than any bumper sticker, though it could be found in the same general area. You see, the license plate on the car in front of me is what caught my attention. The plate read "00D0D00". I guess it's easy to remember, I thought to myself, but then he started to pull away, and I realized that this man may have the best license plate ever. You see, license plates use a font where all the letters and numbers are the same height and width. It normally makes the characters easy to read, but this guy found a loophole. By the time he was no more than six feet away, his license plate looked like all zeros. Genius, I thought as I cut off the guy behind me. All over town, I've seen people that put tinted plastic and reflectors over their rear license plate, hoping to throw off those traffic light cameras, completely unaware of the episode of Mythbusters that debunked those very things. This guy, however, he's got an almost foolproof plan. Unless those cameras can take the absolute clearest picture they can, that guy's got a good chance of passing his speeding ticket on to the poor bastard with seven "O's" on his license plate.
So that's about as cool as a license plate can be, I suppose. I gave up on the idea of a custom plate after my first car. What about the rest of you? Is there anything worth noting about the back bumper on your car, apart from your hilarious "PSSYWGN" novelty plate?
32 comments
Leave a Reply
Previous post: Doing The Dishes Is Like Tetris.
Next post: Sexy Email Time.