Back In Town, Plus A Few Odd Phenomenons I Experienced In My Recent Travels.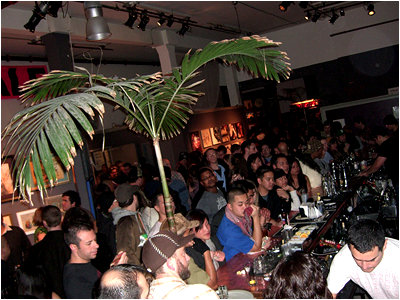 We're back from our trip to San Francisco and Re's art show went really well. Despite San Fran being in a rain-until-you're-underwater constant state of weather while we were there, there was a huge turnout at the show with people lined up around the building and there was barely even room to walk around in the place. I also mentioned that, in addition to the artwork, there would be a few breakdancing crews performing that night. Sure enough, they were tearin' up the floor, and as entertaining as the skilled dancers were, it simply couldn't compare to the audience members who set up their own breakdancing circle later on in the evening. Nothing like watching a completely plastered lanky dude stumbling around in the middle of the dance floor while grabbing his nipples at random intervals. Maybe it wasn't breakdancing... maybe it was his own form of a raindance, and if so, it was clearly working.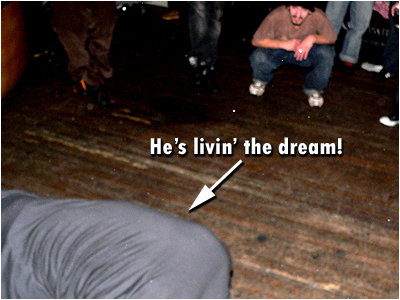 This was my attempt at photographing our drunken raindance pal,
but he fell out of the frame just a second before I snapped the photo.
The next day it rained some more for a while, but then it cleared up long enough for us to walk around the city a lil' bit. Visited a cool little bookstore called Kayo Books which had a wonderfully large selection of classic pulp stuff that I probably could've spent all day browsing through and I definitely plan on going back there when I have more time. We also found a great place to eat lunch at called Han's Coffee Shop and they not only made damned good lunch food (a perfect grilled cheese sammich, fries and a vanilla shake), but their prices were actually cheap. Re and I both ate full meals there and the bill was still under 15 bux... which is definitely unusual for for a place as expensive as San Francisco.
So there were two weird things that happened on this trip, one while going up to San Francisco and one coming back down to L.A. On the drive up, it was already raining like hell and they shut down a huge portion of I-5 North, so we had to take a detour. Not just any detour though, a detour through the Mojave Desert. I swear, when I found that out I thought we were in one of those old Looney Tunes cartoons where somebody took a wrong turn in Albuquerque. Still, we had to get to San Francisco since Re had the art show the next day, even if it meant checking into our hotel around 3am, so we pressed onward. Now here's where it got bizarre... it started snowing in the Mojave Desert.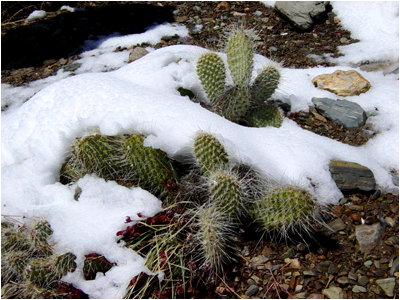 If there's one place you wouldn't expect to see snow, it's in the middle of a desert. Never thought I'd see a cactus covered in snow, but I guess I can now check that off of my "weird things to see during my life" list. And then there was this...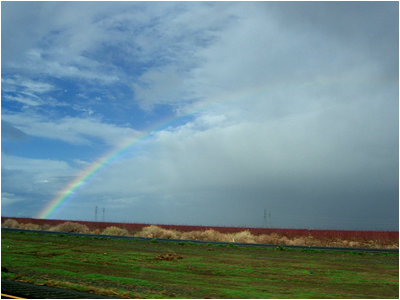 I'm sure you're thinking, "So what? It's a rainbow. Big deal..." Believe me, I thought that at first too. So we're driving back home towards L.A. and we notice a full rainbow off in the distance. Cool looking, but nothing extraordinary. Then an hour passes by and I look over and notice that it's still there. "Huh... that's kinda weird that it's still visible" we thought. Another hour goes by and it's still there. "What the hell? We've been driving for hours, how is that rainbow still there!?" Four hours later and the rainbow wasn't showing any signs of leaving our sight. "GODDAMNIT! STOP FOLLOWING US!!!" Yes my friends, we had ourselves a bona fide stalking rainbow. You've seen Jaws, you've seen The Exorcist... but you haven't experienced true terror until you've been stalked for hours by a rainbow. Well, at least it wasn't a puking rainbow following us the whole way down, because that would've made the trip extra uncomfortable.
Now I'm sure you guys have all done your fair share of traveling, so what kind of odd phenomenons have you seen during such treks? Been attacked by a meteor shower or seen any flying turtles or anything bizarre? Spill the beans!
28 comments
Leave a Reply
Previous post: In Which my 'Temperament' is 'Analyzed'
Next post: In Which I Reveal My Failed Pornographers Past