In Which I Reveal My Failed Pornographers Past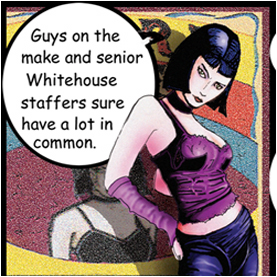 Gentle reader, a confession.
A few years ago, for about eight months, I drew a comic strip for Hustler magazine. It was called 'Angry Darcy' and featured a caustic young woman talking about things and people that made her mad. At no time did she remove her clothes, frolic in a garage with another woman and/or man dressed as an auto mechanic or insert a single foreign object into any part of her body. This could explain why I was eventually fired, but management never asked me to make the comic any dirtier. In fact they didn't ask me much at all. Editorial feedback was limited. They asked that all words be of a uniform font and size. In my original submission, font size varied according to how loudly or quietly Darcy was speaking. Once they asked that I remove a joke they either didn't think their readers would get or didn't find funny. A number of times they asked that drawings of actual people be redrawn to look more like those people. I tried to comply, but found this part difficult, as I worked directly from photographs, and they never commented on what way they felt a given drawing didn't look like the person it was supposed to be. I think I made four different drawings of Scooter Libby at one point. This was very early in the Plame scandal, and as Scooter was a fairly secretive man, there were only three photos of him I could find to work with. It's possible that if I had drawn Scooter having congress with Darcy in a position not achievable by any but the most dedicated contortionist they might have found the resemblance improved. I don't know. While I was more than happy to be paid by Hustler, (and they paid quite well), it just didn't feel like the sort of thing Darcy would do.
I had no contract and worked issue to issue. One day my editor told me he was sorry, but they weren't going to use the one I'd just sent, and they didn't want any more of them. There were no hard feelings. He'd always been honest with me and quite clear that our arrangement might come to an end at any time. While I certainly miss the money, and thought the comic was good, those eight months did not help, or for that matter in so far as I know, damage my career. Frankly, I don't know if anybody read it. I am amazed that monthly print pornography survives at all in today's Internet based media paradigm. No search engine has turned up the faintest whisper that 'Angry Darcy' ever existed. They will now, but only this.
For quite a while, 'Angry Darcy' was my dirty little secret. Only a few select people knew. One doesn't want it bandied about that Larry Flynt paid for one's Daughter's new sneakers. But the fact is, no one cares. Dirty magazines, and when I was a boy Hustler was the dirtiest, are quaint antiques now, even the latest issues sitting behind the counter at 7-Eleven. By the time my generation dies I imagine they will no longer exist. Sad to think of Hustler (to my mind, the least erotic of the popular porn mags) like the American Bison, once so proud, so numerous, now stumbling toward extinction. I was briefly, at the bitter end, a tiny part of the herd.
21 comments
Leave a Reply
Previous post: Back In Town, Plus A Few Odd Phenomenons I Experienced In My Recent Travels.
Next post: Quesada On Colbert