An Open Letter to Hannah Montana, Who Made My Daughter Cry.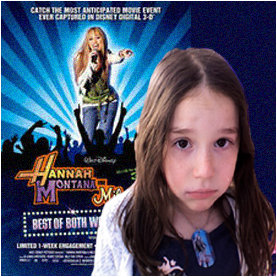 Dear Ms. Montana…
Ms. Cyrus… Miley. My name is Max Burbank. I'm just a small-time comedy writer and proud father. Cordelia, my youngest daughter, is seven. This year for Christmas, Santa brought her a Hannah Montana doll, the Hannah Montana Backstage Closet, and a Hannah Montana FM radio microphone. Santa knows Cordelia loves you. I think Santa knows that Cordie isn't just a fan. You inspire her. You make her want to reach for the stars, and believe that she can do that by embracing her essential self, being true to her heart and her friends. And Cordie's not alone. All over the country, little girls look up to you not because you've done something they can't, but because they see in you all they can become.
Cordie's a good girl. She understood we couldn't take her to one of your concerts. She knows the tickets are bigger than the biggest present we could buy her. She knows that in America, Santa can't give every child what they want, even if they really want it, even if they are as good as they can be. At seven, she understood that concerts are only for a few people who have a way to get some of the limited tickets that are available, for the one performance they can travel to. When your movie came out, she was so excited! It wouldn't be the same as seeing you, but it would be as close as most kids would ever come and that was good enough for her. She's a bright little thing, but bright as she is I couldn't get her to understand why the movie was only going to play for a week and that tickets were very, very hard to get. She's only seven. It didn't make any sense to her.
"Daddy," She said, "only rotten stinky movies run for just a week! That won't happen to the Hannah Montana movie! I love Hannah Montana! We all love Hannah Montana very, very much! Her movie will play and play until every little kid who wants to see it has a chance!"
She didn't understand that while Miley Cyrus is a real person, a girl just a little older than she is with a father who dotes on her, Hannah isn't real. Hannah is a product someone owns. Hannah Montana can be packaged and manipulated and campaigned and sold in whatever way the corporation that owns her thinks will increase her market value. At seven, Cordie can't grasp concepts like that, and frankly, I'm glad. The more years she can grow without understanding the difference between Hannah and Miley, the better.
Today I read in the paper that the Hannah Montana movie made more money than any other movie this week. I read that the corporation that owns the movie has changed their plan and decided to let the movie 'play and play until every little kid who wants to see it has a chance!' which is almost certainly what that corporation had always intended. It was just a marketing trick. Cordelia will get to see the Hannah Montana movie, maybe more than once. Even though my wife and I had to tell her last week we couldn't get tickets. Even though she cried herself to sleep in my arms. Even though she was already made to believe that Hannah Montana is only for a few, select, special girls and that good as she is, she just isn't good enough.
Cordelia won't hold it against Hannah. She doesn't think there's any difference between Ms. Montana and Ms. Cyrus. Because she sees right through Hannah to you, Miley. She could never believe you'd pull a mean old trick on her like that. She could never believe you'd make her cry. And I bet she's right. You wouldn't. I'm a dad. I know a good little girl when I see one.
In fact, I think you're good enough and strong enough that even though someone besides you owns Hannah Montana you'll use your voice to ask them not to make little girls like my daughter cry. I believe in you because Cordelia loves you and I trust her judgment. I hope in the future you won't let either one of us down.
152 comments
Leave a Reply
Previous post: What's With The Super Bowl Anyway?
Next post: The Greatest Local Business Commercials, Including Crazy Eddie!