The Greatest Local Business Commercials, Including Crazy Eddie!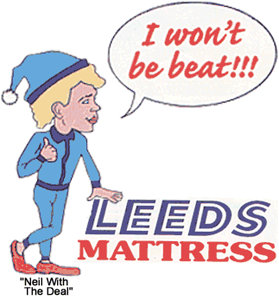 I have a confession to make: I've always been extremely entertained by local business commercials. Put on a Coca-Cola commercial and I can barely even sit through the entire thing without wanting to stand up and scream, but commercials produced for and by local companies? I could watch 'em all day long without even blinking. I've always said that the best kind of humor is unintentional humor, and believe me, there's nothing funnier than seeing an ultra low budget commercial for a local company that was probably done by some college freshman film student. Sometimes its their catchy little jingles, sometimes it's an absurd mascot, sometimes it's an awful logo, and sometimes it's all of those things and more. Whatever the case, I think there's a lot to be said about local ads and today I want to discuss a few of my favorites.
When we moved out to Los Angeles, we immediately started noticing some recurring ads for local businesses, and the one that caught my attention more than anything else was for Leeds Mattress Stores. Maybe it's because "Neil with the deal" used to have the same kind of whafro hairdo as The Greatest American Hero, but I will never tire of seeing his advertisements. Here's one of his more recent commercials (you'll have to watch for the impeccable art & animation at the end), but sadly he got rid of the old whafro hairdo even though the logo and "I won't be beat!" tagline still remain:
You'd think with all the mattresses they've sold over the years they could hire an artist to update their logo a bit. It'd probably be good for their business anyway. I mean, if I see a company with a logo that looks that cheap, I'm probably not gonna expect the quality of their merchandise to be all that stellar either. Plus, I realize he's supposed to be in pajamas enjoying a good rest in that logo, but I swear the drawing makes him look more like an elf rather than a guy in pajamas. His high, ultra-happy commercial voice makes him sound like an elf too - though, I'm sure in real life, he's a baritone.
Another amazing local commercial I recently witnessed was for Michael's Furniture Warehouse. Take a look:
No, you didn't just go on some crazy acid trip, all you did was watch a commercial. A commercial with a semi-naked man, a guy in a bunny suit, a guy in a boxspring mattress-suit, and a woman in a French maid outfit. It's sounds so evil when the announcer says "The Bunny" - it's like something straight out of a horror movie trailer. I also have to say that the guy wearing the mattress suit has one hell of a nice fake moustache. Somewhere in there, I think they were trying to sell furniture, but I'll be damned if any of their sales messages sunk in with me... and I've watched that commercial about ten times. These people shouldn't be selling furniture, they should be making movies for film students to study over and over again.
There was also a law firm back in Richmond and every commercial of theirs was absolutely ridiculous. You know how most law firm commercials are totally serious in that "Have you been injured in an accident? We can help." kind of way? Well not this firm... one of their most memorable commercials featured their jolly lawyer flying in a hand-drawn spaceship! That's right, they figured that having a lawyer flying around the TV screen in a rocket would be a surefire way to land some new clients. Who wouldn't want a guy like that in charge of their legal battles? I'm still trying to find some footage of their old commercials, but that law firm is no longer together (the partners ended up suing each other!) it's probably not going to happen as I'm probably one of the only people who even gives this much of a damn about local business commercials from yesteryear.
As amazingly entertaining as all these aforementioned commercials are, nothing and I mean NOTHING compares to my all-time favorite local business commercials. I was fortunate enough to have been born in Long Island, New York, and as a result, I had a lot of exposure to the greatest local electronics dealer the world has ever seen: Crazy Eddie!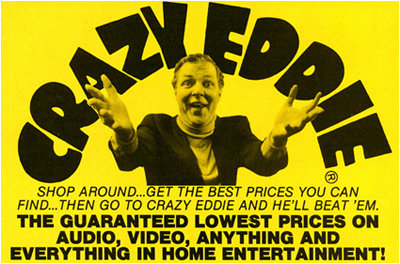 Any of you who grew up in Northeast back in the 80's probably remember his maniacal ranting style as he ended each commercial with that classic phrase, "Our prices are insaaaaaaaaaane!" Have you ever seen CNBC's "Mad Money" show with Jim Cramer? Yeah, well imagine fifty Jim Cramers stuffed into a room that was slowly filling with sulfuric acid. If you recorded the tortured sounds they made as their bodies dissolved, you might have a glimpse as to what the world of Crazy Eddie was really like. His commercials weren't mere advertisements, they were an asylum experience. Behold:
It's like watching rabid auctioneer just before he decides to open fire on everybody before putting the barrel to his own head isn't it? That's why I always looked forward to the latest Crazy Eddie commercials just as much as my favorite TV shows... you just never knew what was going to happen in them next! I particularly enjoyed how almost every sale of theirs was "the greatest sale ever" according to Crazy Eddie. What came as a shock to me years later is that the Crazy Eddie we all knew from the commercials wasn't really Eddie at all, it was just a local radio DJ by the name of Jerry Carroll who was hired to play the role of "Crazy Eddie". The real Crazy Eddie was charged with fraud, sentenced to eight years in prison and was ordered to pay more than $150 million in fines - hence the demise of the Crazy Eddie electronics empire. For those of you interested in learning more about the company history, I highly recommend checking out the entire Crazy Eddie story on Wikipedia as it's a fascinating read and you'll even get to see his real FBI arrest warrant which actually lists "Crazy Eddie" as one of his aliases!
All legal issues aside, Jerry Carroll's "Crazy Eddie" commercial character brought me countless laughs over the years and I'll never forget all those absurdist TV spots. They just don't make commercials like that anymore folks, and it's a damned shame...
73 comments
Leave a Reply
Previous post: An Open Letter to Hannah Montana, Who Made My Daughter Cry.
Next post: An Open Letter To The People Who Read My Open Letter To Hannah Montana