It's February 14th, A Very Special Day.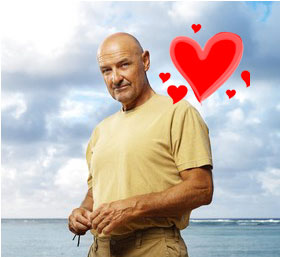 That's right, there's a new episode of LOST on tonight! I seriously haven't been sucked into a show like this (with the exception of Dexter) in years. I know the show has its nay-sayers ("the show isn't going anywhere", "they're just making it up as they go", etc), but I absolutely must know how they're going to tie everything together at the end of this series. It's either going to be the most disappointing ending of all time, or it's going to prove beyond all doubt what an amazing writing team they have working on the show. Time will tell, but either way I'm hooked until the end.
Season Four is the first season I've been able to watch as the episodes aired, as I only got into the series on DVD while Season Three was airing and only just got caught up in time for the fourth season. I'd already had enough spoilers inadvertently revealed to me during that time, so it's nice to finally be enjoying the show in "real time", although now I finally understand the frustration of everyone who complained at having to wait week after week. I guess as an avid reader of comic books I'm used to serial fiction where you have to wait for the next issue or episode to come out, and I enjoy the waiting anyway as it gives me time to speculate and come up with my own theories and ideas.
It's also nice to see one of my favorite comic scribes, Brian K. Vaughan, working on episodes now. The two that he's co-written so far were definitely recognizable as his work.
So I guess I'm just curious... if you're a fan of the show, who's your favorite character? And what do you think of the fourth season so far? Me, I'm loving it. And my favorite character from day one was John Locke. He's good and crazy. Please try to label spoilers, because LOST spoilers are the kinds of things that brother will kill brother over.
25 comments
Leave a Reply
Previous post: 1st Floor Elevator Users
Next post: Rotoscoping Needs To Die.