Rotoscoping Needs To Die.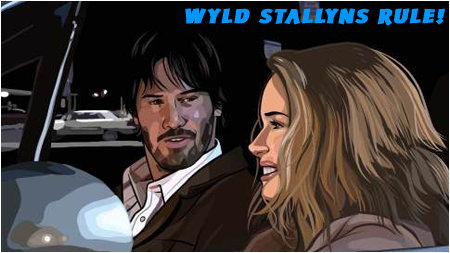 Yes, this could easily go on one of my old Things That Must Be Destroyed lists, but I haven't written one of those in years, so putting it in the blog here will do just fine. For those of you who don't know what rotoscoping is, it's a form of animation where artists literally trace each frame of a filmed video to give it a weird hand-drawn look... but you can still tell it was filmed. If you saw the recent film A Scanner Darkly, then you've seen a good example of interpolated rotoscoping. So why does rotoscoping need to die? Because I'm absolutely sick of seeing it. Yes, it can be a good tool for some animators 'n all, I understand that, but allow me to explain why I think it's getting way out of hand.
Look at that shit. It's a Charles Schwab commercial. Charles-Fucking-Schwab. Is there ANY reason why they needed to have their brokerage house commercials rotoscoped instead of just showing the regular filmed footage? Any reason at all? The answer is: No. It's just some stupid new "Talk To Chuck" ad campaign they're doing and sadly there are many more of these commercials and they're all equally pointless. It just screams of some lame way a bunch of old men in suits are trying to be hip in an attempt to connect with the younger generation. Just look more of 'em up on Youtube if you don't believe me. It just doesn't make sense because I honestly find the use of rotoscoping to be completely distracting from whatever message they're trying to get across to me. When I watch those commercials all I can do is wait to see if they show me any real reason as to why they chose to rotoscope them. But that reason never comes and my anger continues to grow because I know some company got paid a shit-ton of money to produce these godawful commercials. Commercials that I could've made more interesting with my lil' Sony camera and no rotoscoping at all. If I could "Talk To Chuck", I would tell him how much money he just wasted on their new TV ad campaign.
In conclusion: Fuck Rotoscoping.
So who else is sick of seeing this stuff get overused? I swear it's gonna become like The Matrix, where after it was released, everybody was using the bullet time effect on everything. Yes, rotoscoping has been around forever, but this particular interpolated style seems to be popping up more and more and I'm already sick of seeing it.
Before I go, some of you may remember when I appeared as a guest on Coin-Op TV Live last year. Good times, right? You betcha! Well, Rob (the host) needs some help to get this gamer girl he's managing to win G4's Got Cast hosting contest and I thought I'd do what I could to help out. So I'm asking you guys to take a few minutes to register on there and vote for CIJI who goes under the gamer tag "StarSlay3r". It's currently a close contest between her and a few others for the #1 spot, so each vote counts. And as you can see from her Guitar Hero skills, she actually plays games unlike most wannabe female video game show hosts who often have no interest in the games they report about whatsoever. Granted, I'm one of those weird guys who's only impressed with people who can play a real guitar rather than a video game one, but to each his own. So yeah, help 'em out and go rock the vote!
77 comments
Leave a Reply
Previous post: It's February 14th, A Very Special Day.
Next post: Fruity Nuggets: The Ultimate Generic Cereal?