Fruity Nuggets: The Ultimate Generic Cereal?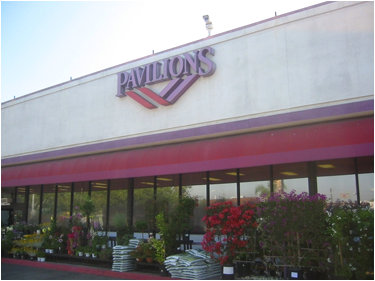 I like my local grocery store, Pavilions. It's close by, they carry almost everything I like, and it's open all night so I can shop there when there are no lines to wait in. Yes, I still go to Trader Joes and Whole Foods (aka: Whole Paycheck) every week, but places like that obviously don't have certain bare necessities in life such as Pop Tarts and Glacier Freeze flavored Gatorade. That's where Pavilions comes in. So I was in there the other day perusing the cereal aisle when I came upon a generic gem that nearly brought me to tears...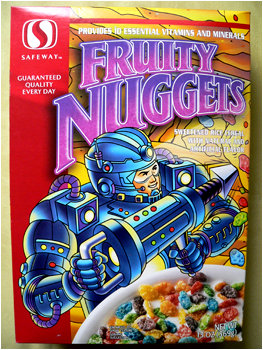 Fruity Nuggets! You can't tell me that this cereal isn't a gleaming example of majestic imperfection! The cereal itself is actually distributed by Safeway and is a poor man's Fruity Pebbles, but there's so much more to it. First off, just look at that box artwork... he's actually mining in a cave with a fruity nugget extracting jackhammer! Aren't you glad to know where your box of Fruity Nuggets cereal really comes from? You should be. My father was a coal nugget miner and he got the black rainbow lung as a result of it, so you pampered bastards with your bowls overflowing with delicious generic fruity cereal had better appreciate it!
And look at the face of the Fruity Nuggets miner! Yes, he's wearing a ridiculous exoskeleton suit, yet his face doesn't even appear to be inside the helmet. Call me crazy, but me thinks the artist here could've used a few lessons on creating proper perspective... maybe then this nugget miner wouldn't have a face that looks like it was pasted onto the outside of a robo-helmet.
The joy of Fruity Nuggets doesn't end there. No, no, no! For unlike most generic cereals, Fruity Nuggets actually comes with a story activity printed on the back of the box: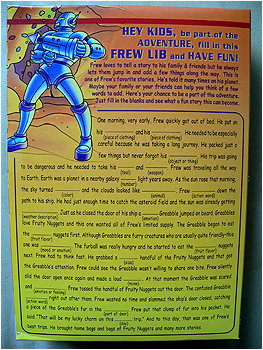 click to enlarge
No, your eyes do not deceive you... Fruity Nuggets includes a funtastic Frew Libs activity! What's a Frew Lib, you ask? Well it's just like a Mad Lib, only it stars the character on the front of the box who apparently goes by the name Frew. I've taken the liberty to fill in the blanks of the story for myself here:
One morning, very early, Frew quickly got out of bed. He put on his LOINCLOTH and his ASSLESS CHAPS. He needed to be especially careful because he was taking a long journey. He packed just a few things but never forgot his ROTATO. His trip was going to be dangerous and he needed to take his GLUE-GUN and ORIGAMI SHURIKEN. Frew was traveling all the way to Earth. Earth was a planet in a nearby galaxy 3.14159265 light years away. As the sun rose that morning, the sky turned SALMON and the clouds looked like DUCK-BILLED PLATYPUS. Frew VOMITED down the path to his ship. He had just enough time to catch the asteroid field and the sun was already getting OVERCAST. Just as he closed the door of his ship a HORNY Greabble jumped on board. Greabbles love Fruity Nuggets and this one wanted all of Frew's limited supply. The Greabble began to eat the DURIAN nuggets first. Although greabbles are furry creatures who are usually quite friendly - this one was AROUSED. The furball was really hungry and he started to eat the JUICY FRUIT GUM nuggets next. Frew had to think fast. He grabbed a MICROSCOPIC handful of the Fruity Nuggets and that got the Greabble's attention. Frew could see the Greabble wasn't willing to share one bite. Frew silently slid the door open once again and made a loud PHRRRT. At that moment the Greabble was scared and NAUSEOUS. Frew tossed the handful of Fruity Nuggets out the door. The confused Greabble RAPED right out after them. Frew wasted no time and slammed the ship's door closed, catching a piece of the Greabble's fur in the KNOB. Frew put that clump of fur into his pocket. He said "That will be my lucky charm on this CHRISTMAS trip." And to this day, that was one of Frew's best trips. He brought home bags and bags of Fruity Nuggets and many more stories."
Well now, that was certainly a complete waste of time, but that's really all I could do with the cereal since it expired last month - even though I bought it yesterday. Feel free to do the same Frew Lib activity by using this photo from the back of the box. And if any of you are in need of a signature image for the I-Mockery forums, you could do a lot worse than the Fruity Nuggets logo.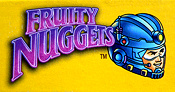 Come on... there's no fighting it. You know you want to.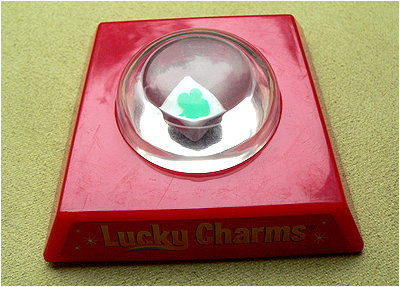 Speaking of cereal, I bought a box o' Lucky Charms recently and was surprised to find a toy inside when I opened it up. I guess I'm so used to not even looking to see if my cereal has a toy surprise in it these days that I never even noticed the mention of it on the box. So you can obviously imagine my excitement when I discovered that my Lucky Charms came with a custom Pop-O-Matic bubble, complete with the lucky marshmallow shapes on each side of the die. The reason they included it is so you can play a game (using the cereal for pieces) on the back of the box. While I won't be playing games with my cereal any time soon, I'm more than happy to have a new Pop-O-Matic bubble. Honestly, you can never have too many of 'em in your life. Here's to hoping that cereal companies start including more toys with every box like they did back in the day.
67 comments
Leave a Reply
Previous post: Rotoscoping Needs To Die.
Next post: In Which I Reveal My Dabbling In The Sciences.