In Which I Reveal My Dabbling In The Sciences.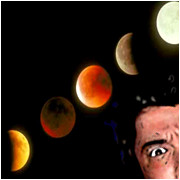 Gentle Reader, what can I tell you today?
Last night, during commercial breaks in American Idol, I watched a total eclipse of the moon. I'm certain the confluence of events was informative in some way, but it hasn't processed yet. I favor the lady with the two-tone hair and I think eclipse phenomena are overrated in general, although I enjoyed it. We are constantly being told that some astronomical function is taking place which has not happened in many years and won't happen again in our lifetimes, but it seems as if taken as a whole they happen with unkind regularity. I can only be called upon to be amazed so many times. As an employee of a science museum, I recognize this opinion for the shameful lack of character it reveals, but there it is.
Speaking of science museums, would you like to see what I would look and sound like if I were about one and one half inches tall and existed as a series of illuminated bits of light that appear to move? Simply direct your Internet machine to these coordinates:
And you will see me behaving foolishly in a professional capacity. If you have the wherewithal, you might consider contributing to the advancement of science yourself.
I am currently at work writing about Pluto. The heavenly body, not the dog, whose body is animated and sausage like. It was a planet. It is not now. Was it ever? These questions irritate a great many people and much of that irritation comes from a misunderstanding of what a scientist means when they say something 'is' something. Does this make former president Bill Clinton a Scientist? Perhaps. In any case, it falls to me to make a public explanation in the near future involving a planetarium machine including all it's various esoteric engines and personnel. It is my great good fortune that someone in a professional capacity must have had a stroke or other brain impairing moment on the level of my being asked to direct Sunday School Pageants, but it happens, gentle readers, it happens.
29 comments
Leave a Reply
Previous post: Fruity Nuggets: The Ultimate Generic Cereal?
Next post: My Life As A Zombie Sheriff.