My Life As A Zombie Sheriff.
Here's your chance to help ol' Protoclown get on the upcoming Diary of the Dead DVD. Last Saturday I got all dressed up as a zombie and spent the entire day working on a three-minute short film directed by Robert Elkins, titled "No More Room in Hell." My friend Scott (the one who looks like Rob Zombie) told me about this shoot and convinced me to come along and be in Robert's film. I've already been in a previous film of his, "The Curse of Zombie Lake", which will appear on the upcoming Zombthology DVD, but I'm wearing a mask in that so no one will actually recognize me. Fortunately, we got actual make up this time around, which for me was a lot more fun.
Robert is participating in a Diary of the Dead contest, in which the top five winners will be featured on the upcoming Diary DVD. Go here to see the film, and then (you have to be logged into Myspace) just click on the buttons below to vote on whether you like it or not. The 10 videos with the highest ratings will be viewed by George Romero himself, and then he'll pick his five favorites and put them on the upcoming DVD as extras.
Unfortunately these films are all limited to three minutes, so there was only so much we could do with that time. But hey, I got to play a zombie sheriff and I even get a special sound effect (oooh!) when I come out to attack! And you get to hear me making hungry zombie groan noises.
So go and help me out! I don't care if you like the movie or not, I just want to be on the DVD! Nah, if you honestly don't like it, you don't have to give it a "Booyah!" but I will come to your house and eat your brains. You have been warned.
Here's the rest of the zombilicious cast: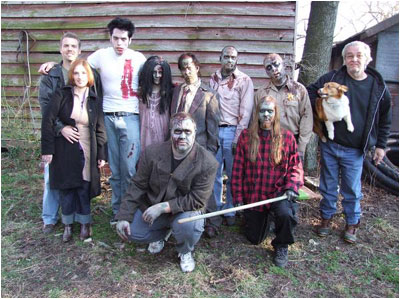 BY THE WAY, YOU CAN VOTE MULTIPLE TIMES! HELP A ZOMBIE OUT!! 
25 comments
Leave a Reply
Previous post: In Which I Reveal My Dabbling In The Sciences.
Next post: Piles.