Here Comes Peter Cottontail… With An Easter Basket Of Diabetes.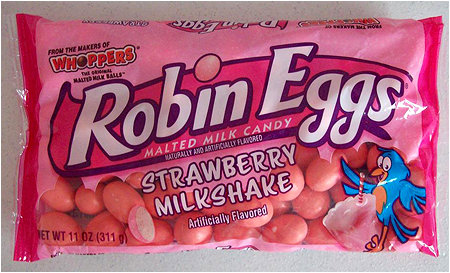 As I'm sure many of you have already seen, store shelves are officially in high gear for Easter. While I've always thought of it as one of the most useless holidays, I'll still take any chance I can get to enjoy some o' the seasonal candies associated with it. I have to be honest with you though, it's going to be hard to top the sweets from recent years such as the edible crucifix or the infamous nipple egg. So far I haven't seen anything on the shelves that quite compares to those gems.
Sure, it's always nice to see Robin Eggs make their triumphant return, and I'm dying to try out the "Strawberry Milkshake" malted milk balls. I've always had a love/hate relationship with Whoppers... yes, they taste great, but it's one of those candies that can make you feel nauseated if you eat more than 3 of 'em. But they're ahead of the game when it comes to Cadbury's creme-filled eggs... I can't even finish one of those bad boys, they're just too rich.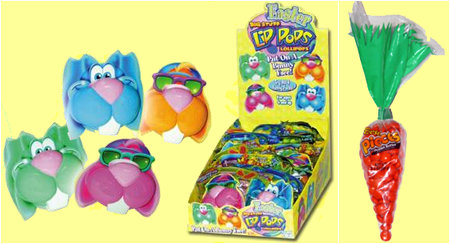 Lip Pops are also getting in on the action this year with their own bunny face pops. Personally, I'll stick with the Halloween ones, but hey... to each his own. Reese's also has their usual Easter-themed pastel eggs and a plastic candy-filled "Reester" bunny, but they also released new Reese's Carrots this year. It's just a simple cellophane package in the shape of a carrot, filled with Reese's Pieces candies. Sure, it looks nice, but considering it holds less than a standard pack o' Reese's Pieces, it's hardly worth the $1.50+ price tag I'm seeing it sell for.
So what new Easter candies have you guys spotted in stores? Anything particularly mouth-watering or anything particularly stupid? I'm all ears... bunny ears.
On a final, completely unrelated note: I'm going to see Umberto Lenzi's "Cannibal Ferox" (aka: "Make Them Die Slowly") at the New Beverly Cinema tonight and couldn't be more excited about it. It's a horror flick I've been meaning to watch for years, but I've always put it off. But now a rare chance to actually see it on the big screen? Sign me up! If any of you are in the Los Angeles area, you should definitely try to come see it tonight.
41 comments
Leave a Reply