The Wave.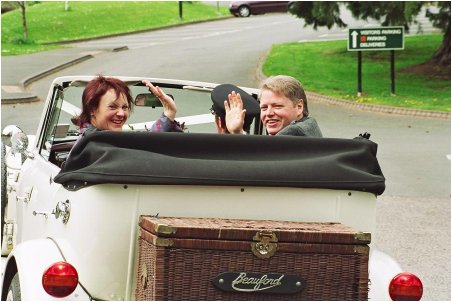 Here at I-Mockery, our readership typically skews pretty young. That's why I come to you now with an educational opportunity. Don't worry, this won't take long, and I guarantee this will be a very important bit of knowledge. This is for all the young drivers out there, as well as for those of you who just haven't figured out how to drive at (I'm looking at you, city of Los Angeles). I'm going to tell you about an important driving maneuver that you aren't going to hear or read about in Driver's Ed: The Wave.
Some of you are already thinking that "The Wave" simply refers to wave-like pattern you make as you weave back and forth between multiple lanes without signaling, and that you've pretty much gotten that maneuver down to a science. Wrong. The real Wave is quite the opposite of your sociopathic driving. Moreover, it actually has nothing to do with your car, per se.
Here's how the Wave works: imagine that you're trying to merge, make a turn, cross the street, etc. Suddenly, rather than speeding up to cut off any potential entry point you might have, one of the other motorists on the road actually slows down to let you in. You take the opportunity to get in and, this is the tricky part, you give that motorist a little "wave" of your hand. That's it, a simple gesture to acknowledge that, by the grace of a total stranger, you have made your latest traffic maneuver successfully.
So what does this get me, you ask? Nothing. However, I guarantee you've brightened that person's day just a little, and that may be all they needed to put off that psychotic killing spree they've been thinking about for what seems like ages. Now I know what you're thinking: "But that guy doesn't even work for the same company that I do. Who cares if he shoots up the place?" Well look at it this way: if after he shoots up the place, he hops in his car and tries to make a daring escape, only to cause a 10-car pileup on the freeway, you could be looking at some serious delays on your drive home. So when the time comes for a "Wave", ask yourself which is preferable: a minor wrist ache, or a bloody episode that keeps you away from your delicious cup of Ramen noodles?
28 comments
Leave a Reply
Previous post: Here Comes Peter Cottontail… With An Easter Basket Of Diabetes.
Next post: Trick-Or-Treat Adventure Quest: Download The Home Version!