Don't Eat The Yellow Polymer Snow.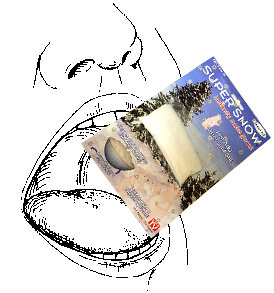 One of the perks of running a big entertainment site is that you get all sorts of interesting emails from people. Yes, I get to hear from lots of cool, like-minded people who want to share their thoughts about the articles I've written or to tell me about something I should write about at some point, but I also get to hear from nutjobs every now 'n then too. Today I received an email from one of those delightful wackos, and the best part is that this one decided to breed.
Remember that article about "Super Snow" I did back in December of '06? Well a mom just sent me an email inquiring about the product that I simply had to share with you. I'll omit her full name to spare her any public embarrassment, but you've got to read this:
"Hi there,

My daughter has just eaten some super snow, out of the tub it came in. Is it poisonous and should I seek medical help?

Yours
Ashley"
Ok, a few things here.
1) If you think your child may have digested something potentially poisonous, you do not send an email to somebody about it and wait for them to respond. If there was somebody trying to break into your house, would you look up the email address of your local police station to notify them? No, you'd call 911 and get help immediately. Well the same goes for consumption of toxic materials... you call Poison Control.
2) I-Mockery is the 3rd listing on Google when you do a search for "Super Snow". The first listing is DuneCraft, the company who clearly makes the stuff. So why did this woman decide to contact yours truly, a guy who runs a humor site and is often seen donning a pickle-shaped hat, instead of the people who produce said "Super Snow" product?
Well Ashley, you may not be mother of the year, but the good news is I just looked up some info on Super Snow and according to DuneCraft it is "non-toxic and safe for ages 3 and up", so your daughter should be aok.
Just don't be surprised when she shits out Frosty the Snowman.
50 comments
Leave a Reply
Previous post: You CAN Shoot The Dog From Duck Hunt! Hallelujah!
Next post: Who Couldn't Use A Tentacle Arm?