Who Couldn't Use A Tentacle Arm?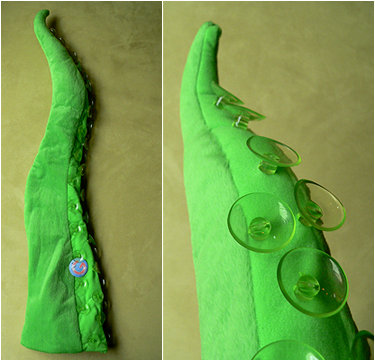 If there's one thing we humans got screwed over on, it's gotta be our lack of tentacles. Yes, yes, the whole opposable thumbs thing is keen, don't get me wrong... I just think when it comes down to it, we could all accomplish a hell of a lot more if we had tentacles. Just imagine the power you'd feel with suction cups on your squigly arm extension.
Well, fortunately the Gaia Online Store has decided to grant us the same powers that have been bestowed upon our octopus and squid brethren. Behold the almighty tentacle arm!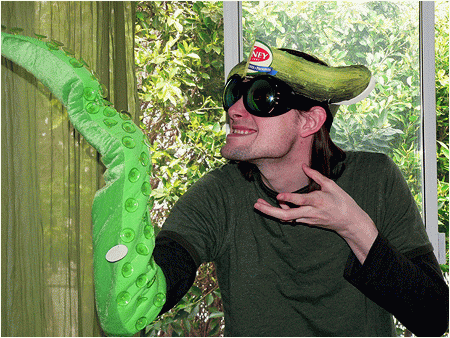 As you can see, it's a perfectly wearable tentacle arm, complete with all the translucent green suction cups one could ever desire. It's really well put together and it's comfortable for pretty much anybody to wear. Also, to fans of the old LucasArts Day of the Tentacle PC adventure game, this is obviously something you should all own. Granted, it's not purple, but a tentacle is a tentacle and it's hard to go wrong one no matter what the color.
But here's something the folks from Gaia Online haven't told you...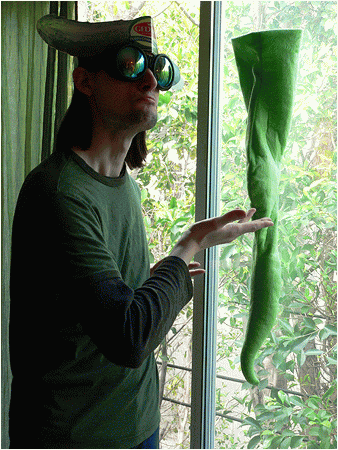 The Tentacle Arm makes for the greatest Christmas stocking EVER! Yes indeed, just flip it upside-down and stick it to a window with those powerful suction cups, and you've got yourself the longest, most badass looking Christmas stocking in the history of the world. Santa's jingle balls will cower in fear when he sees this green beast hanging before him, and he'll have no choice but to leave you a ton of cool gifts or he too shall face the wrath of the mighty tentacle arm.
So that's just one additional use I've found for the tentacle arm so far, but we're holding a new contest on the forum to see who can come up with additional uses for it! The winning entry will receive a brand new tentacle arm of their very own. Just imagine the years of suction-cuppy joy you'll have with your beloved tentacle arm. So check out the forum thread for the contest rules (you MUST post your entries in that thread) and let's see what uses you can come up with for this super cephalopod souvenir. And no, "tentacle rape tool" is not a valid entry. Contest ends 4/1/08. Good luck!
32 comments
Leave a Reply
Previous post: Don't Eat The Yellow Polymer Snow.
Next post: Beetles And Gum, Together At Last!