Badass Cute Cartoon Characters? Um, No.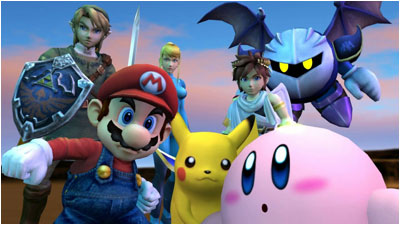 So my roommate picked up Super Smash Bros. Brawl last week, and he and I have been kicking each others' asses for a good week now. Hell, we've even played the game some too, and it's a lot of fun, if you like those kind of games. But here's what I can't get over: Every time in the single player game that you get to a new character intro screen, they try to strike some kind of "badass" pose when it freezes on their still image and their name appears on the screen beneath them.
Now, for some characters this is perfectly fine. Ganondorf is a hardcore motherfucker, so he can look badass all he wants. Same with Samus, or Solid Snake. But it's when "cutesy" characters like Pikachu, Kirby, or Mario try to strike some kind of supercool badass pose that I can't help but laugh my ass off. Does anyone else have a hard time buying it when Jigglypuff decides to throw off the kid gloves and put on a mean face that shows how much he means business?
But don't mistake me, it doesn't detract from my enjoyment of the game. Not in the slightest. If anything it makes me enjoy the game more because of how much funnier I find everything. I just wanted to know if anyone else was thinking the same thing I was here.
84 comments
Leave a Reply
Previous post: Beetles And Gum, Together At Last!
Next post: "The Monster Squad" And "Night Of The Creeps"? Now That's What I Call A Night On The Town!