"The Monster Squad" And "Night Of The Creeps"? Now That's What I Call A Night On The Town!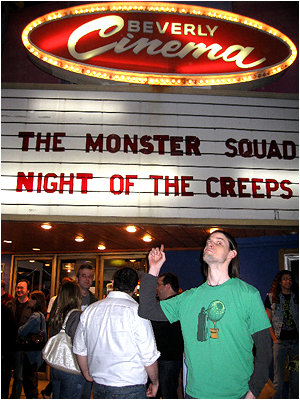 Doesn't it just bring a tear to your eye seeing that beautiful marquee? Seeing rare prints of two of my favorite cheesy horror/comedy flicks in the same night for 7 bucks with writer/director Fred Dekker there to talk to the audience? There may be no finer way to spend an evening and it sure as hell started my weekend off right.
The movies were, of course, fantastic as ever and seeing 'em with a big audience who truly appreciated them in the same way I do made it all the better. Dekker also proved to be a funny guy, and he's obviously appreciative of his fans especially since there were more people in the theater that night than when the films originally came out. Unfortunately, he claims to have moved onto other things in his life, so we probably won't be seeing any cheesy horror flicks from him again. He also went on to talk about how he wants to get "Night of the Creeps" released on DVD, but Sony is playing hard to get with it, so he suggests everybody write to 'em. Send your "Release NOTC on DVD!" requests to:
Sony Pictures Home Entertainment
10202 W. Washington Blvd.
Culver City, CA 90232
Anyway, for those of you who didn't attend the double feature, you can see footage from that Q&A with Fred on Youtube - click here for part 1. click here for part 2.
It's little things like this that truly make me appreciate life out here in L.A. There's just always something fun to do somewhere, and more often than not, it's cheaper than you'd expect. Double features at the New Bev Cinema, improv at UCB, spending hours searching through the mind-bogglingly gargantuan Amoeba Music store for rare albums and DVDs... and that's just barely scratching the surface. Being nomadic by nature, I now often wonder if I'd be able to tolerate living anywhere else again. Other than NYC, I can't think of any other places in this country that would come close to having so many distractions whenever you need 'em. I suppose time will tell. Until then, I will continue to live by the immortal words of Tom Atkins (aka: Detective Ray Cameron): "THRILL ME!"
Also, it goes without saying that if you haven't already seen both "The Monster Squad" and the criminally out-of-print, "Night of the Creeps", you need to remedy such a grave mistake immediately.
Survey: What's the best double feature you've ever seen? Furthermore, if you could see any two movies in a row at a theater, what would they be and why?
p.s.: Don't forget our tentacle arm contest ends this coming Tuesday (4/1/08), so be sure to get your entries turned in by then if you haven't already!
42 comments
Leave a Reply
Previous post: Badass Cute Cartoon Characters? Um, No.
Next post: The "PickleMan Begins" Beta Test Was An April Fool's Day Gag? You Don't Say!