Mallow Fries: Candy Or Abomination?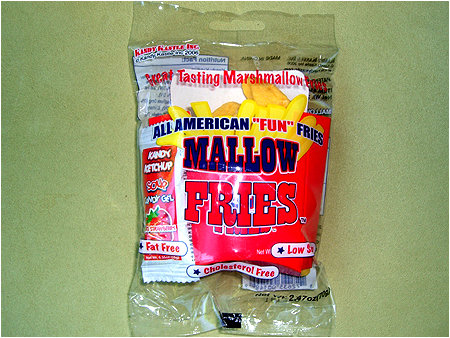 As I was wandering through my local CVS the other day, I noticed they had a new section of candies near all of their "get ready for summer!" crap. While the allure of new flip-flops and a rainbow-riddled beach towels would probably prove to be too strong for most people, my eyes were already locked on these marshmallow monstrosities. Kandy Kastle is a company that clearly knows how to bend marshmallows to their will. If they wanted marshmallows to take on the form of a fully functional German zeppelin, I'm pretty sure they could pull it off somehow. But since a life-sized marshmallow zeppelin won't fit on store shelves, they're going with fries instead. Let's take a closer look at their "Mallow Fries" and see what twisted fluffy secrets they contain, shall we?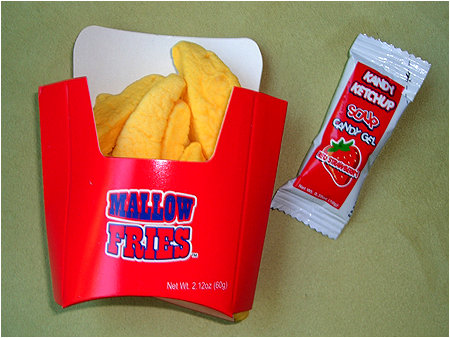 It's kinda of eerie just how much these Mallow Fries look like real steak fries, isn't it? Maybe it's because they actually included a candy (er... pardon me, "kandy") ketchup packet to push the illusion that much further. While eating marshmallow fries alone didn't sound too appetizing to me, the thought of covering them in sour strawberry flavored candy kandy ketchup didn't make me any more eager to eat them.
Now, I'll be the first to admit that I'm not a big fan of marshmallow candies. I've probably mentioned it before, but generally speaking, I can only eat a few Peeps (the pinnacle of marshmallowy evolution) before I'm sick of 'em. Now if you're making s'mores, then I'll be the first in line to woof 'em down, but plain marshmallows just aren't my cup o' grog. While these fries are anything but plain, what with being drenched in sour strawberry goop, they're just not that good at all. The sour stuff isn't awful, but it's nothing to write home about, and the fries just seem like marshmallows that were left out of the package for far too long.
They also make a "Mallow Pizza", "Mallow Dog" and a "Mallow Burger" to go with the fries, but if the pseudo-food I just ate was any indicator of what it tastes like, I'm going to steer clear of 'em. If you want fries, get real fries. If you want a burger, get a real burger. If you want a zeppelin, get a real zeppelin. Unless you plan on filling it with hydrogen instead of helium, then you might want to go with the Mallow Zeppelin instead.
But hey, it's not all bad for the Kandy Kastle company... they may not make the best tasting marshmallow candies, but I'll be damned if they don't know how to make them look good. I'm gonna be counting down the days 'til Halloween so I can finally get my hands on this bad boy: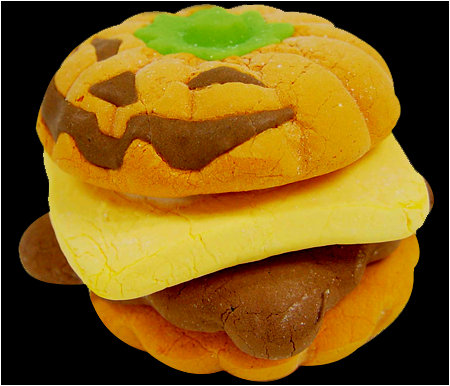 The Halloween "Bite Me" Mallow Burger!
There aren't many foods out there that deserve a coveted spot on your mantle, but this is clearly one of those rare exceptions.
46 comments
Leave a Reply
Previous post: Damnit, Kool-Aid Man! Look What You Did!
Next post: Who Left That Coupon There?