In Which I Confess A Terrible Secret.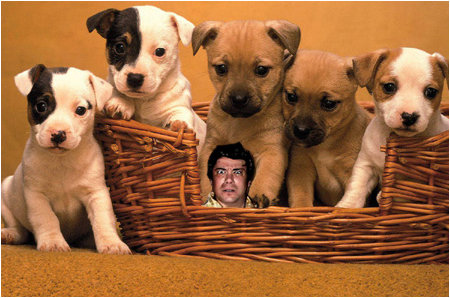 I hope this basket of puppies acts as a Red Herring!
Tonight, gentle reader, there will be tears in my house. I'd like to tell you they will be my daughters, as there's nothing shameful in a twelve or eight year old girl crying over something on TV. I'm tempted to tell you my bride is destined to ride the boo-hoo caboose, and well she may without shame, the weeping of women being socially acceptable. But surely by now you know if I am 'all about' anything, I am 'all about' the truth. Yes, the women of my household may cry tonight, but before their tears reach the river Lachrymose, a boiling flood of extra salty man tears may join them. I could lie and tell you they were the tears of our border Lester, the wise and ancient Negro who lives in our attic, but sadly his tear ducts were long ago sold to laboratories for smack money. No, gentle reader, no. The man tears, if man tears there are, will be mine.
Someone is going home tonight. And there are only six left and I love them all! That being said, I love Sayesha least so I hope it's her.
YES!! YES!! MY NAME IS MAX BURBANK AND I AM AN AMERICAN IDOL FAN!
I'm not going to say I'm not ashamed of it, because I AM ashamed of it, as well I should be. In the vast miasma of television product, American Idol is a mammoth, fetid, slowly rotating bolus of crap. One need only glance at the musical selections I have reviewed for this very site to see that the lowest common denominator pap pop tunes the show caters to are not my cup of tea. And yet, and yet, and yet I LOVE THIS SHOW. Not ironically, not anthropologically, not just a little, but hugely, madly, deeply. I have a deep down case of unvarnished puppy love for American Idol, I want to marry it and have children with it and when I die I want to be buried next to it. I don't care how wrong it is. To quote Ms. Abdul, 'Opposites Attract.'
Think less of me now? Fine. Whatever. You were all okay with me when it came out that I have a little thing for one-eyed chicks, you had my back when the House Committee on Unethical Business Practices got all bent up over the provenance of a few Korean medical school corpses, but I cop that just the hint of Ryan Seacrest makes me swoon in anticipation and you drop me like a hot potato with tiny robot rats in it! Well, as the French say, 'Fuck that Noise'. Daddy is as Daddy does. And if, as I fear, Brooke gets voted off tonight, stay well away from me for at least a week. Because you know how some people only drink when they smoke? Well, when I cry I tend to break wise-ass bastards fingers with a hammer.
47 comments
Leave a Reply
Previous post: Who Left That Coupon There?
Next post: "That guy".