"That guy".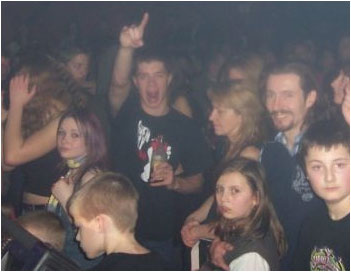 Have you ever heard someone talk about "that guy" who goes to a concert wearing the t-shirt of the band he's there to see perform? Every time I've heard mention made of "that guy", people have spoken of him as a clueless tool, some kind of embarrassing social pariah who clearly just doesn't "get" it.
So why is it that every time I go to a concert or a show, I not only see "that guy" (I rarely see the ladies commit this offense, honestly), but I see that he apparently brought a lot of his like-minded fashion-impaired friends with him? When I was younger, this t-shirt thing was a rule that you just simply followed, for fear of your ass getting kicked, or perhaps even being singled out and picked on by the lead singer of the band who, upon being embarrassed by the fact that you were wearing their shirt, decided to publicly make fun of you for it. These days though, I'm seeing it more and more. Am I just noticing it more now, or is it happening more, I wonder?
Really though, I don't see the purpose behind wearing the shirt of the band you're there to see at the show. The whole point of wearing a band's shirt is to proudly advertise your good(?) taste to the world, and perhaps even encounter people of similar taste and strike up conversation (my Gogol Bordello shirt almost always gets me into a conversation with some random person whenever I wear it). It's kind of a given that you're a fan of the band you're there to see; otherwise, you probably wouldn't be there, unless you're some kind of masochist or are easily confused.
Isn't it better to display some other aspect of your musical taste when you're at a show? Then it's as if you're saying "Hey, not only do I like Björk, but I like the Dead Kennedys too!" And hey, some other person who likes both of those bands may actually speak to you and you might strike up a good conversation, and perhaps even walk away with a musical recommendation or two.
Am I alone in thinking this? Do you see "that guy" an awful lot when you go to shows? Are you "that guy", perhaps? Of course not. You and I, we're much cooler than "that guy".
Come to think of it, another "rule" I have is that on the way to the venue, the band you are about to see cannot be played in the car. Who wants to get sick of hearing them before you get there? But I can't count the number of times I've heard people pull up to or depart from a show with the performing band blasting out of their vehicle's windows. Do any of you guys have similar "rules" or rituals when going to a show?
103 comments
Leave a Reply
Previous post: In Which I Confess A Terrible Secret.
Next post: Deal Or No Deal: Star Wars Style.