Deal Or No Deal: Star Wars Style.
RoG recently told me that there was going to be a Star Wars oriented "Deal or No Deal" episode coming up, and it looked absolutely cheesy as shit, so I Tivoed it, and I watched parts of it on fast forward for a laugh, but I'll be damned if I'm actually going to waste two hours of my life watching a shitty game show.
Apparently though they had Darth Vader as the evil banker, R2-D2, Chewbacca and Carrie Fisher as moral support, and a bunch of stormtroopers and models in "Slave Leia" outfits holding briefcases with numbers representing dollar amounts (but no actual dollar amounts). Did anybody actually see this thing? It looked absolutely wretched. Unfortunately I saw a couple of the lame Star Wars jokes they made and it made me wish that lightsabers were real so I could cut my own head off.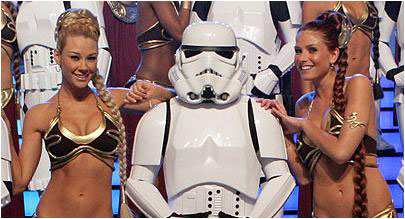 I realize this is far from the first Star Wars tie-in to a show like this, but why on earth do these things have to happen anymore? Is George Lucas really desperate for money? Does he really need to promote this relatively unknown thing called "Star... Battles" was it? Or was it rather the show "Deal or No Deal" that was desperate for attention? I have never seen the show before, so I have no idea how popular it is.
But I will say this: from what little I saw of it, it appeared that the whole thing was pretty much random. There is not a single bit of skill, or knowledge, or talent that comes into it as far as I can tell. So I don't understand why people will watch this kind of shit. I'm not big on game shows because I have other things I'd much rather spend my time on, but I can at least see the appeal of a game show that's educational. At least when I watch "Jeopardy" I might learn something from it. "Wheel of Fortune" exercises my mind ever so slightly. Hell, even "The Price is Right" tells me the prices of... okay, maybe not.
But these shows that involve random chance, I just don't get. Maybe there's something more to this show that I didn't see, but it looked absolutely 100% random to me. Why bother?
Do we have any game show addicts out there? It's okay, come on out and admit your secret shame. I will even recommend worthwhile hobbies to you, because I'm just that kind of a nice guy.
44 comments
Leave a Reply
Previous post: "That guy".
Next post: In Which I Offer An Object Lesson.