Listen All Of Ya'll It's A Sabotage!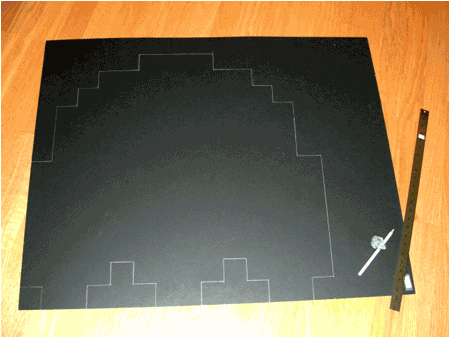 We were at a video game party not too long ago and I made a costume for it: a scared ghost from Pac-Man. I once dressed up as Pac-Man when I was a kid, and I'll try digging through some old photos sometime to find a picture of it, but I never had a chance to be one of the ghosts. I dunno what it is about 'em, but I always loved how they turned blue with fear whenever Pac-Man ate a power pellet. Now, having worked on countless sprite-based games and comics, I'm extremely anal about making sure everything is absolutely pixel perfect, and making this costume was no different. I measured right down to the pixel an actual Pac-Man ghost and then translated it to the measurements of the large craftboard and foamcore that I would use to make it. Knowing I wouldn't be able to wear it during the entire party without crushing it, I opted to make something that I could later use as a wall decoration. What do you guys think? Personally, I'm really happy with how it turned out, especially since it was a last minute kind of thing that I put together in a day.
But most importantly, my buddy Tom captured one of my performances of "Sabotage" by the Beastie Boys on Rock Band. You can watch me in all my rock star glory after the jump...
It's become sort of a tradition that whenever "Sabotage" comes on, I am required by the gods of rock to perform it as loud 'n obnoxiously as I can. You may now all get on your knees and proclaim, "We're not worthy!"
29 comments
Leave a Reply
Previous post: Fast Times At I-Mockery High.
Next post: Hot Wheels Mystery Cars: Part 1 Of 2.