Hot Wheels Mystery Cars: Part 1 Of 2.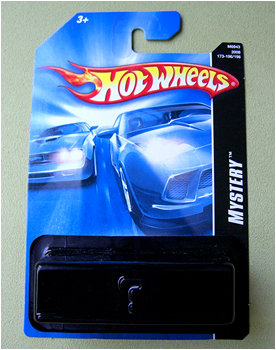 So I was walking around the toy aisles of Target the other day, like any grown man should, and I noticed a strange Hot Wheels package out of the corner of my eye. Normally, I barely even pay any attention to Hot Wheels since I generally don't give a damn about cars, but the solid black packaging drew my eyes in like a magnet. Hot Wheels "Mystery" cars??? It took all of about two seconds to realize I would be buying this thing immediately because I'm a total sucker for any kind of "mystery" items where you don't know what you're going to get. I've already posted evidence of this in the past with the Mystery Surprise Grab Bags from the dollar store. I've also posted about another form of mysterious automobiles from Matchbox in the form of Coal Cars. Those things came with a nice lump of coal to keep them in though, and these latest "Mystery" cars don't come with anything of the sort, so the cars themselves have a lot to live up to. After all, when something costs a whopping 99 cents like these mystery cars do, you expect it to be of the utmost premium quality, right? Right.
So let's see what I got...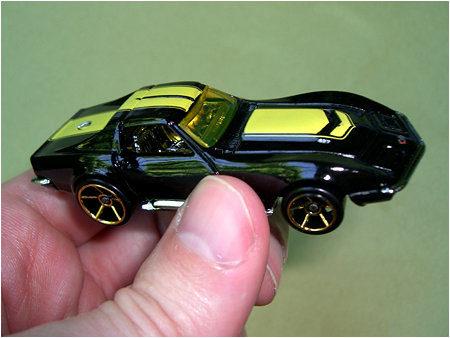 Damn, I was really hoping for something cooler, like the Batmobile from the old Adam West "Batman" show or the Green Hornet's "Black Beauty". Or how about that cool Baja Bug that Crispin Glover drove in River's Edge? Hell, I'd be happy with friggin' Herbie. Don't get me wrong, a '69 Corvette is cool 'n all, but it seems like a pretty basic car for such a mysterious package. When you have an ominous black package like that, you expect the hounds of hell to jump out at you the instant you open it, so I guess anything less is a bit of a let-down. Then again, these things are a gamble by nature so I can't complain. I will say this though, I now want to get yellow-tinted windows installed on my car. Er wait, make 'em green. If it was good enough for the Green Hornet, it's good enough for me.
While I was at Target, I found two of these Mystery car packs, so tomorrow I'll be opening the other one and sharing it with you guys. If the Internet was made for just one thing, it would have to be for watching a guy opening up mysterious toy car packages. This is what you pay those big connection fees for! Get ready for the action-packed conclusion tomorrow! Could you possibly be more excited? It's ok, you can tell me.
In "mysterious" related news, I've long considered sending out monthly I-Mockery Mystery Packages, but I'm not sure how interested people would be in paying 5-10 bux each month and not knowing what they were gonna get. Many of you remember the old I-Mockery Club Packs that I used to mail out and they always sold out quickly, but with those, you knew almost exactly what you were getting. With these new packs, however, you'd just have to put your trust in me. What do you guys think? Is this something you'd be interested in or is putting all of your trust in a guy who wears a pickle hat too much of a stretch?
42 comments
Leave a Reply
Previous post: Listen All Of Ya'll It's A Sabotage!
Next post: Hot Wheels Mystery Cars: Part 2 Of 2.