In Which I Lean Precariously Over The Abyss.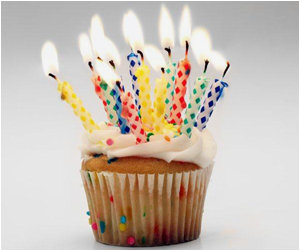 Gentle reader, tomorrow at around 1:35 pm I will be forty-six years old. In any case that's how it is with me as I type these words. By the time they are posted my birthday may be in process, or have come and gone. By the time you read this, who knows how old I'll be, if I'm alive at all? Or maybe you'll never read this, in which case I shall be immortal.
The demographics of the fine web site you are now enjoying suggest that I am your elder, in most cases by a good number of years. Many of you have parents younger than I, which I imagine makes all three of us shudder, unless you are my offspring, in which case the number shuddering would be two. Or four and three respectively if you join us in shuddering.
The point is by any definition one chooses, I will be, or am, middle aged, a highly unlikely state of affairs I never once imagined would come to pass. I am probably a good deal more than middle aged in fact, since the chances of my living to be ninety-two are slimmish. So here I am, middle aged and doing this.
It is too late for me to be a prodigy, an enfant terrible, a child bride. I will never 'burst' upon any 'scene'. I do not think I will be able to limbo under 'late bloomer' at this point. Wilford Brimley was four years my junior when he got his first major film role as a rotund aging codger.
Forty-Five was the last birthday I believe I shall have handled with good grace. That round number had the pleasant feeling of 'arriving at' as opposed to 'departing from'.
On the other hand, it is never too late to be a Ne'r-do-well.
36 comments
Leave a Reply
Previous post: Hot Wheels Mystery Cars: Part 2 Of 2.
Next post: I Love Indiana Jones.