I Love Indiana Jones.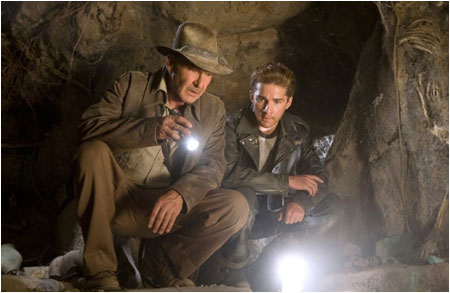 Not in a gay way, mind you, but he is one of my childhood heroes and favorite characters ever. So as you can imagine, I'm really looking forward to the upcoming Indiana Jones and the Kingdom of the Crystal Skull, despite it's terrible, terrible title. But the problem is that George Lucas is involved, and he let us down big time with the Star Wars prequels. So I don't exactly trust him, you see. However, the good news is that Steven Spielberg is also involved, and though he's done some crappy movies in his day, his track record is WAY better than Lucas's.
Much as I welcome the idea of having more Indy adventures to watch, I'd almost prefer they left well enough alone. The original trilogy is fucking fantastic, and The Last Crusade ended things so damned well, I have a hard time believing that this new one could provide a halfway satisfying conclusion to the whole series. It's almost bound to disappoint, given the sheer perfection of Raiders of the Lost Ark and Last Crusade, and the not-too-shabby-though-not-quite-as-good Temple of Doom. It's pretty much impossible to top the first or third movie, and when you go out on such a great high note as they did, it's usually a bad idea to keep doing more, especially after so much time has gone by.
So I'm trying to keep myself from having ANY expectations at all about this new film in an effort to avoid being disappointed. I don't think for one minute it will be as good as Raiders or Crusade, but can it match Temple? It might. That's my sincere hope, anyway. Maybe if I keep telling myself "George Lucas is the man behind Jar Jar Binks" over and over again, I'll start to think the movie will suck, and then even if it's just "okay" I'll still be fairly happy with it. (Plus, it has Cate Blanchett in it, who I am totally in lurve with).
What are you guys' thoughts about the new movie? Do you have hope that it will live up to the previous adventures, or do you think Indy's time is past? Also, I'm curious: what's your favorite film in the series? It's a very tough choice for me between Raiders and Crusade, but I think Crusade just barely edges out over Raiders for me, because the interaction between Harrison Ford and Sean Connery is so much fun to watch. Indy works really well when he has a sidekick to play off of, and that was the one thing he lacked in the first film. I'm also curious to know how many Temple fans are out there. Don't get me wrong, it's a fine movie, but I think the annoyingness of Willie Scott kind of drags it down a few notches as compared to the other two.
NOTE: Protoclown wrote these words two days prior to their posting, before having seen the movie, which he has just returned from. And boy, does he have things to say about it, boy does he ever. But he is going to wait and post a weekly movie review about it next week, rather than discussing it here. This post is more about the "before". The "after" comes later. Protoclown has also just realized it is three in the morning, and he is writing about himself in the third person. God, what a douchebag.
98 comments
Leave a Reply
Previous post: In Which I Lean Precariously Over The Abyss.
Next post: Back From Vacation! Well, Physically…