The Tohato Mascot Is Made Of Nightmares.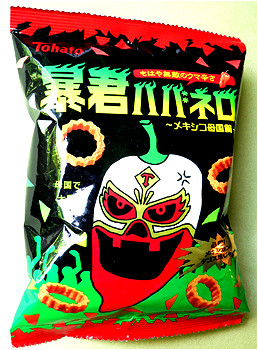 I think I'm in love. A few weeks before my recent vacation in Nags Head, I paid a visit to Mitsuwa Marketplace in Little Tokyo once again and came away with this amazing bag of fiery potato snacks. The snacks themselves, while definitely hotter than your average spicy potato snack, just don't taste that good at all. If you vomited into a deep fryer, shaped it into a ring and added some habanero seasoning and staleness to it, you'd have this particular Tohato snack in a nutshell. But who cares about flavor when you have a mascot like THAT!? If you can find a pepper with a more diabolical face, then I'd love to see it. Just look into those cold eyes and you'll find nothing there but a yearning for murder. I'm dead serious when I say that the Tohato pepper ranks right up there with Domo-Kun when it comes to awesomely twisted Japanese characters. If the two of them were to battle, I'd probably have a heart attack in my face from witnessing such a historic spectacle.
Now I've stated before that I don't speak a word of Japanese, but after doing some research, I've learned that there's a lot more to Tohato than just this one bag of chips with a sinister pepper wearing a Mexican wrestling mask...

I could be wrong, but I believe Tohato is on a quest for world domination. Just one look at the official web site and you'll see that menacing pepper plastered all over the page. But if you explore deeper into the site, you'll see some truly frightening photos such as this: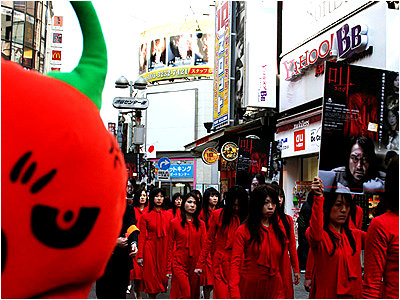 It's been two days since I visited the Tohato site and saw images like that and I haven't slept since. I'm deathly afraid to close my eyes, for whenever I do, all I see is IT. I apologize if this blog post causes insomnia for the rest of you, but it's better you find out about it from me rather than from the pepper itself when it headbutts your front door down and rubs its inherently spicy evil directly into your ocular cavity. Even DEATH is afraid of the pepper... LOOK!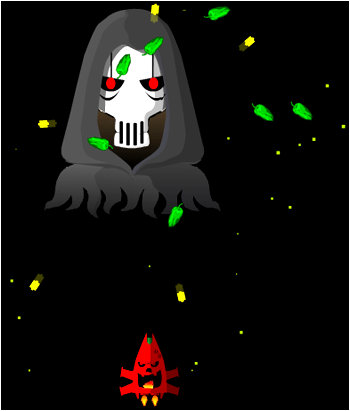 Yes indeed, the Tohato company isn't just limiting themselves to a global conquest, they're going for all-out intergalactic domination by fighting Death (or General Grievous as some have suggested) in outer space! You can play this simple flash game on the site where you fly your pepper-powered space craft which shoots snacks at the marauding peppers. If you last long enough, you'll get to battle Death, who spits out bullets and more peppers. Don't ask me, I didn't write the game so I'm not going to pretend to understand it. They also have some wallpapers 'n what not if you would like to decorate your computer with the evil of Tohato in hopes that they will spare you in the future.
Now I've searched all over online, but I can't find any place that sells some of the other nifty Tohato pepper mascot products such as this toy: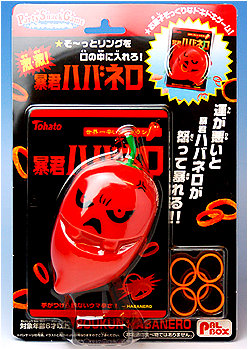 If any of you know where I can buy it, by all means tell me. Not even eBay has come to my rescue in this case. I just need to have more of the Tohato mascot in my life. For chrissakes, just listen to some of these names for their snacks:
-Tyrant Habanero Burning Hell Hot
-Tohato Habanero Talking Turban Terrorist Pepper
-Satan Jorquia Bazooka Deadly Hot
Impeccable right? Well, their marketing campaigns are nothing short of incredible either. Take a look:
Even more impressive was their viral marketing campaign for their two newest snacks by setting them against each other in "The World's Worst War" where you could choose an evil army to battle with on your cell phone.
Pyramid schemes... epic "ha-ba-nero" songs... and above all things, who wouldn't want to battle in lands such as "Sweet Sucker's Execution Hall" or "Ouch, the City of Anal Torture" anyway?
Man... I really need to pay Japan a visit someday.
49 comments
Leave a Reply
Previous post: In Which I Question Either The Science Or Vocabulary Of Denise Richards.
Next post: I Can't Help Getting Older, But I Don't Have To Get Old.