My Obligatory Friday The 13th Post.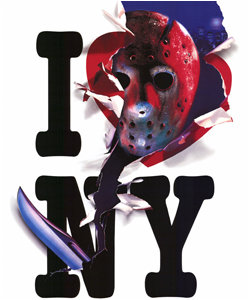 It may be an unlucky day for some, but for horror fans, Friday the 13th will forever be associated with gut-splatteringly good times thanks to a maniac in a hockey mask. Today I'd like to open up a discussion about the Friday the 13th flicks to hear your thoughts on a few things:
1) What's your favorite Friday the 13th movie?
2) What's your favorite Friday the 13th movie moment? (this can be a kill scene or just any scene you really enjoyed)
Now, I've already posted my list of Jason's 10 Best Kills and I still stand by that list 100%. Same goes for my Freddy's 10 Best Kills list. If I had to pick my favorite movie in the series, it would have to be Friday the 13th Part VII: The New Blood. Jason never looked better than he did in that one and I loved how he had a real opponent in the form of a girl with telekinetic powers.
As for my favorite movie moment... as fine as Jason's many kills have been over the years, the ultimate scene is from Friday the 13th: The Final Chapter in which Crispin Glover shows us that he is the greatest dancer in the history of the world.
It's still absolutely incredible to this day.
Also, while we're on the subject, what do you guys think about the new Friday the 13th movie that's coming out in February '09? They definitely got the hockey mask right and Derek Mears easily looks like the right man to play the part, but I still remain skeptical. Then again, I can't imagine it being worse than Rob Zombie's Halloween remake, so at least it has that going for it.
If you still need more of a Friday the 13th fix, check out these other I-Mockery articles:
-Jason X: The Worst Halloween Costume Ever?
-I-Mockery's in-depth look at Friday the 13th Part VIII: Jason Takes Manhattan
-Jason's 10 Best Kills
48 comments
Leave a Reply
Previous post: A Pac-Massacre.
Next post: They Are Becoming More Aggressive, Our Avian "Friends".