They Are Becoming More Aggressive, Our Avian "Friends".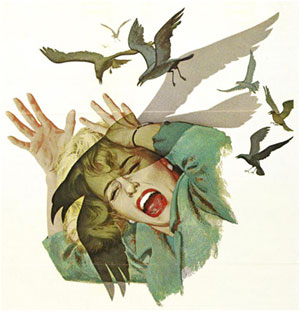 I can't help but notice, in the last several months, that I have almost plowed into almost a dozen birds with my automobile vehicle, my "horseless carriage", if you will. I will be driving along, singing to whatever awesome music I happen to have playing (all of my music is awesome), when suddenly, a kamikaze avian menace will swoop down from the sky, passing right in front of my vehicle, clearing the opposite end mere seconds before I would have smeared it into a feathered paste across my grill.
It has happened frequently enough that I have definitely noticed a trend. I do not remember birds doing this in the past, so I must wonder, what has changed? Is global warming driving them insane? Are they afflicted with some "mad bird disease" currently rampaging through the avian community? Have they been watching Hitchcock? Or is it merely some kind of game, a test of wills--some new game of chicken they play, perhaps to impress their mates? Or perhaps my new Honda Civic came with a bird magnet feature I was not aware of.
It's only a matter of time before one of two things happen:
1) I actually do manage somehow to run over a bird. With my car.
or
2) A bird will fly through my car's front windows, either making a clean shot into one side and out the other, or hitting me in the head or missing the exit, either of which will result in me swerving and flailing wildly to fend off the attack, until I die in a horrible ball of flaming wreckage, the bird escaping just in the nick of time and nervously shitting all over the carnage for one final insult as it flies away.
Has anyone else had any near-bird experiences while driving? Especially lately? I want to make sure they're not organizing.
51 comments
Leave a Reply
Previous post: My Obligatory Friday The 13th Post.
Next post: Exactly How Life Should Be.