Kill Devil Hills. A Great Name And Vacation Spot In North Carolina.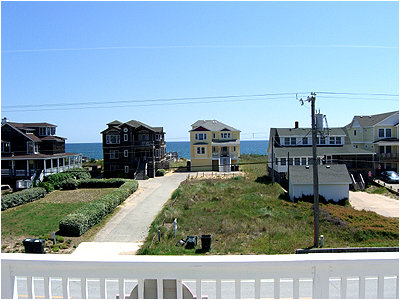 As I mentioned in a recent post, we went to Nags Head, North Carolina for an extended Memorial Day weekend vacation with a bunch o' friends from back East. This vacation was extra special for me because it was something I've wanted to do for a long time - have all of us pool our money together so we could rent a really nice place for a week. And man, did it ever beat the hell out of staying at a hotel. We ended up getting a huge 3-story house right near the beach, and when it was all said 'n done, it cost everybody less than a week-long hotel stay would have. Not a bad deal by any means. Well, I promised I would share some photos from that excursion sooner or later, so I've just put up a little collection of some photos that we took. Rather than bore you with historical tidbits about Kitty Hawk or reminiscing about how many crabs I used to catch on the docks of Manteo with nothing more than a piece of string and a chicken drumstick, let's drive right into the pics!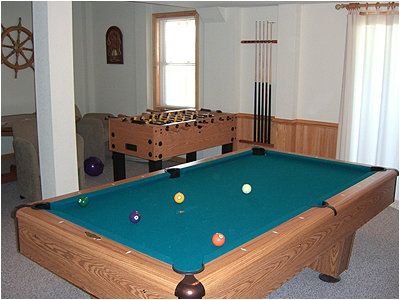 If there's one thing a beach house needs, it's gotta be some quality entertainment. Now, I'll be the first to admit, I'm an awful pool player. Sure, every now 'n then I'll make a crazy shot and act like I planned out all the angles in my head, but the truth is, if I do anything right, it's pure luck. The foosball table, however, that's a game I grew up playing because of my father, and I'm more than happy to make all of those helplessly rod-impaled players obey my every goal scoring command. There was also a poker table down there, but I don't think anybody there really played cards. I sure as hell don't, but I did bring some lenticular shark cards with me just in case. Guess I'll have to break those in another time, because really... who wouldn't want to play with cards that had a bunch of animated sharks on 'em? The joker card even depicts a shark attack, but I digress...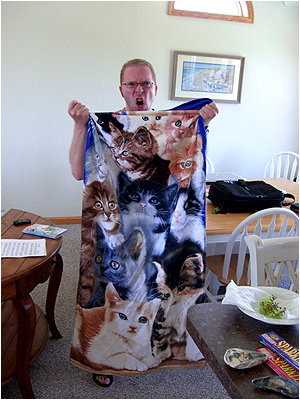 On our first night there, we went to the local shops to pick up some vital beach supplies, and Protoclown found what is bar none the greatest beach towel ever made. How he didn't score a thousand ladies while he proudly sat on the kitten towel will forever remain a mystery to me.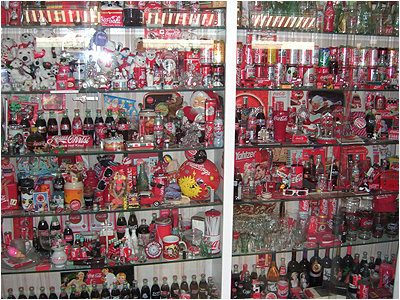 There's a pretty decent 50's style diner near where we stayed, and holy crapballs, did they ever like their Coca-Cola memorabilia.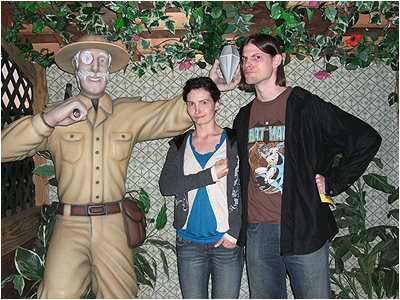 We paid a visit to the Professor Hacker's Lost Treasure miniature golf course. I've always been a fan of golf courses that go all out with their themes, and this was definitely one of the better ones. After you pay your admission fee, you're taken for a ride in a coal car up the "mountain" and dropped off at the start of your golf game. I mean, your golf adventure! I'm not sure what Professor Hacker's story is, but he either knows how to find some really impressive diamonds, or he's a big fan of The Sims.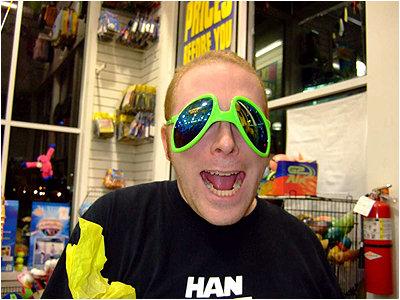 We all tried on these great alien glasses, which were sadly too small for any of us to comfortably wear for an extended period of time, but Proto definitely made them look even better by wearing 'em upside-down.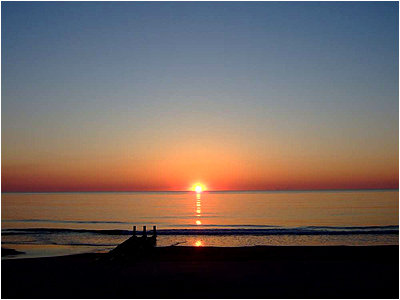 Ok, every beach vacation photo set needs to include a sunrise. So here you are.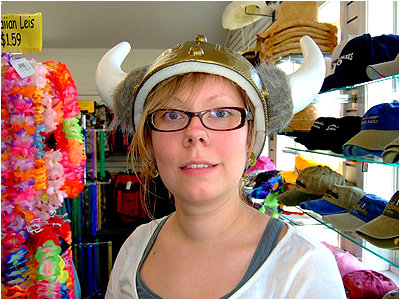 Not interested in important beach supplies such as kitten towels, our friend Jhyle found happiness in a Viking helmet. Who wouldn't?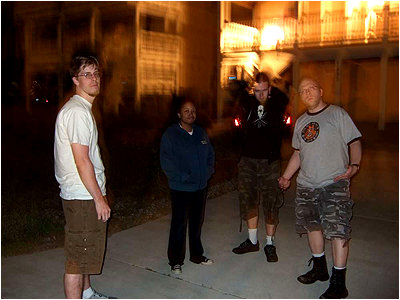 Our party got way out of hand one night and we had to wait for the fire department to arrive and put out the house fire. Ok, so that didn't happen, but I like how this photo looks.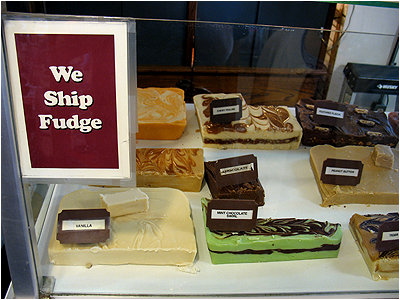 To any of you who enjoy fudge, you'll find more varieties of the stuff in Nags Head and the surrounding areas than just about anywhere on earth. If you ask me, "We ship fudge." should replace "liberty and justice for all" as the motto for this country.
Not only did we find the best beach towel on the planet, we also found the greatest product advertisement. PURIFIES THE BLOOD! MAKES THE WEAK STRONG! I think that's gonna be my new slogan for I-Mockery... what do you guys think?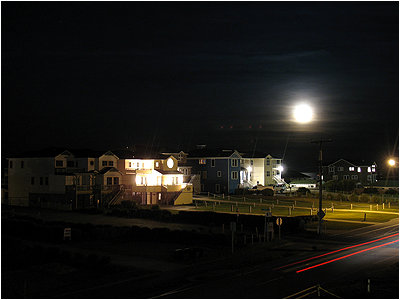 This was one of my favorite nighttime photos from our deck.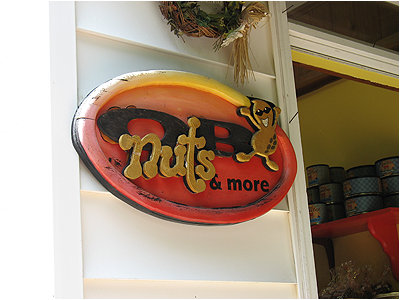 Yes, you too can get nuts (and more) in the Outer Banks.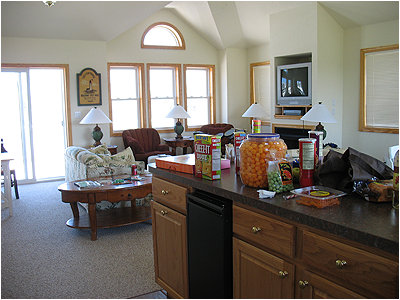 The upper level of the house was both well lit and well equipped with cheeseballs. By the way, in case you haven't guessed by now, these photos aren't chronologically ordered in any way whatsoever.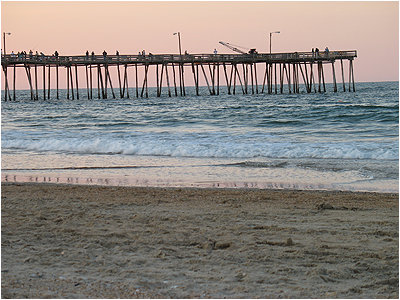 One of the best things about where we stayed was that we could walk across the street to the Nags Head Fishing Pier, one of my favorite piers to visit from when I was younger (along with the Avalon pier). It was well stocked with snacks, cheesy arcade games and great views of the ocean.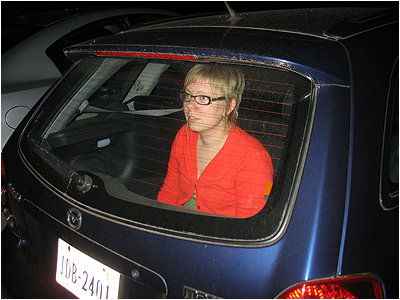 OH NO! SOMEBODY FORGOT TO UNPACK JHYLE FROM THE TRUNK!
Even us coal miners can take a break for a fun game o' mine golf here 'n there.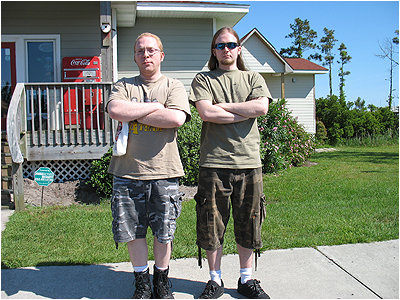 Word.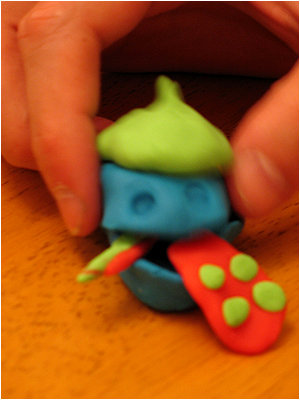 Our friends Malissa and Andrew supplied some additional gaming fun in the form of the Cranium board game, complete with a fresh batch of Play-Doh. As you can see, we put our craniums to good use when dealing with said Play-Doh.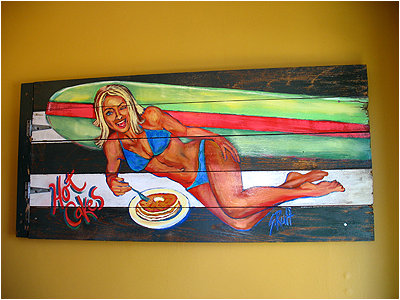 We decided we all had to go out for a real breakfast at least one day, and Stack 'Em High Pancake House was our restaurant of choice. In addition to having some damned fine pancakes, they had this impressive sign. A surfer girl eating a big plate of pancakes while winking at you? I wish I had this hanging on my wall.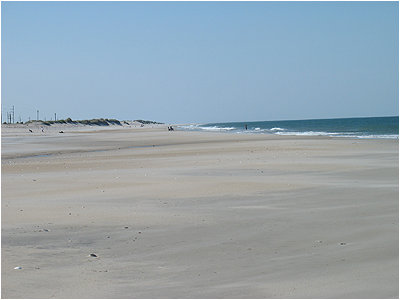 The beaches in Nags Head were great, but I've always preferred heading down towards Hatteras. The beaches down thataway are virtually empty and extremely relaxing.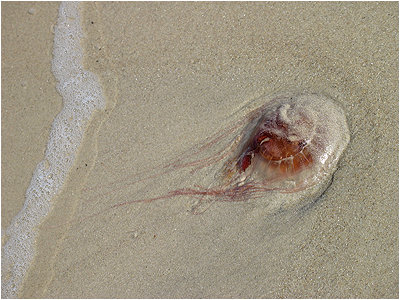 They also have a lot of red jellyfish in the water there...
...and protected colonial nesting birds too.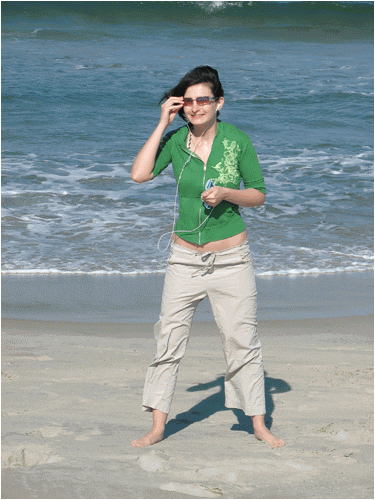 Naturally, such a remote beach gave Re a chance to put her dance moves to the test while listening to her iPod.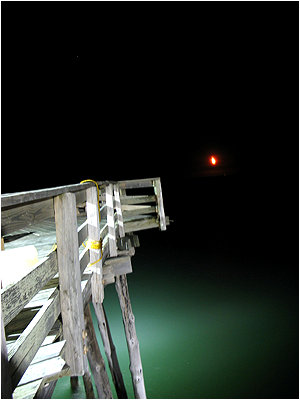 Watching the sun rise is nice 'n all, but watching a bright orange moon rise near 1am was damned cool. It was like a little fire way out in the middle of the black ocean, and this is definitely one of my other favorite photos.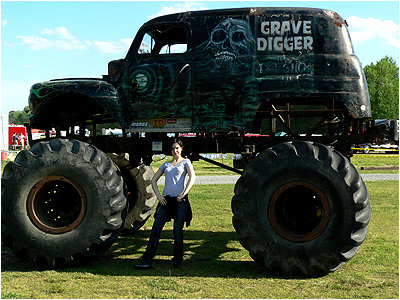 Ok, I'm sure you're all going, "Monster trucks?? What the hell!?" Well, it just so happens that on the drive from Richmond, VA to Nags Head, NC, you pass by Digger's Dungeon - home of the infamous "Gravedigger" monster truck. Re is pictured here in one of the oldest incarnations of Gravedigger.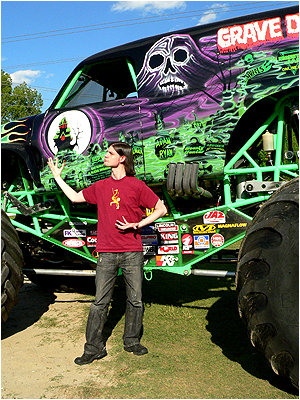 Here I am in front of one of the newer ones as you can see by the bright new paint job. I've never been a person to follow monster trucking (or car sports of any kind for that matter), but the artwork on Gravedigger is 100% badass.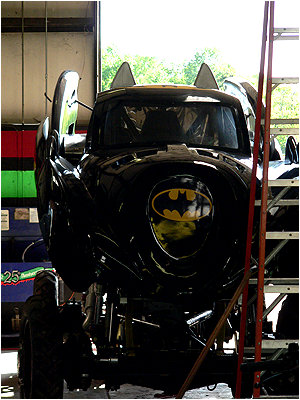 Another nice surprise was getting a peek into their garage where they were working on some crazy looking Batmobile monster truck! Unfortunately, the Teenage Mutant Ninja Turtle monster truck that I saw the last time I made the drive to Nags Head was nowhere to be found. I guess it was busy crushing members of the Foot clan under its massive wheels.
Fanta apparently has sponsored a monster truck as well. Man, that would suck having to come home and tell the family that your truck was destroyed be orange soda on wheels. How are you supposed to hold your head up after an incident like that?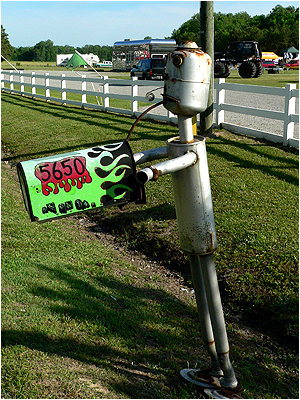 The final picture I have to share with you today is of this sad little robot mailbox. It looks like he's just holding his hands out with a downtrodden look upon his face as if to say, "Please give me some mail. I'm really lonely."
And now, I share with you a quick lil' mix of some of the only video footage that was taken during our Nags Head trip:
In closing, it was a hell of a fun vacation and I really hope we can do it again. I spent many a summer in Nags Head, and it was good to be back there to see some of our East Coast friends and family... and fudge.
47 comments
Leave a Reply
Previous post: Exactly How Life Should Be.
Next post: In Which I Explain My Recent Absence.