In Which I Explain My Recent Absence.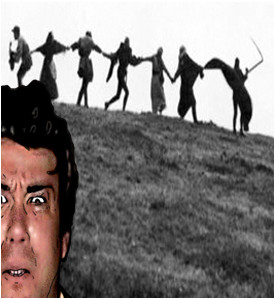 Gentle reader, perhaps you have noticed I have been missing from these pages the last few weeks. Then again, perhaps not. It's hard for me to imagine a you that does not monitor my comings and goings as carefully as a presidential physician, but I acknowledge the theoretical possibility. If that's you, well, so be it. I probably wasn't talking to you anyway.
Perhaps you have gleaned from other postings on this site that my employment of the last 16 years was abruptly terminated, that I was found redundant, downsized, not completely necessary to the continued functioning of the institution for which I had worked. Perhaps, having gleaned, you deducted that the bulk of my freelance worked was conducted on a computer owned by my employer during times for which I was paid an hourly wage, and assumption I CATEGORICALLY AND LEGALLY DENY. Nothing so common as the sudden termination of my employment would keep me from you, my audience, the only people on earth I care about. Besides, you know, my kids. And my wife. And my parents, my brother, his children and all the other people who might take offense and retaliate in irritating ways if I failed to mention them. Truthfully, as you my audience are for the most part imaginary for me, that either places you at the top or bottom of my list of priorities, depending on my mood and medication. My point is, I'm back, and I was not gone just because some 'suit' callously 'gutted' the 'entire department' to which I had given the better part of my 'soul' for a goodly chunk of my 'adult life'. No, it took a lot more than that to keep me away from you.
At around the same time I was terminated, and quite coincidentally, I was mauled by a lion. A drunk lion. A drunk, knife-wielding, clinically depressed lion, with whom I had been drinking, when things, as they will, suddenly turned ugly. Also, the lion was on fire, having drunkenly failed to minor the nearness of it's mane to one of the many decorative candles that provided the sort of scant illumination preferred by men and lions doing the sort of industrial drinking we were doing. It was a case of booze fueled mistaken identity for which I forgave the lion posthumously, but only after I killed him by the repeated application of a barstool applied directly to his forehead.
Sadly, your better intensive care units have iron clad rules against smoking, drinking, shooting up and blogging. Hence my absence. So if you thought I was away, sobbing under a table over the uncertainty of my future or getting hasty and poorly considered depression related sex reassignment surgery, now you know better. And also, 'ph*ck' you, and 'ph*ck' the horse you road in on.
34 comments
Leave a Reply
Previous post: Kill Devil Hills. A Great Name And Vacation Spot In North Carolina.
Next post: I-Mockery's First Official T-Shirt In Eons! It Glows-In-The-Dark!