Obligatory Fourth Of July Thread.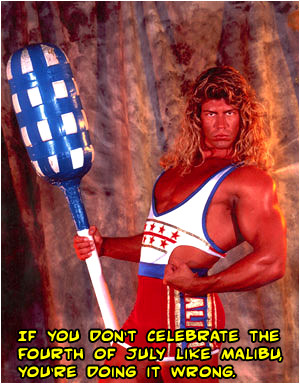 The picture says it all. July 4th is upon us so whether you're living in America or not, I hope you'll all share your plans for the weekend in this thread. As for me, I don't have a whole lot planned for today, just the usual hanging out with some friends. I was actually tempted to track down a copy of the old patriotic horror/comedy movie "Uncle Sam" to help get in a more festive mood, but then I remembered how horrible it was. This wasn't one of those so bad it's good films, it was just 90 minutes of pure ocular agony. But damnit, it had a lenticular cover when it came out, so I was naturally powerless against renting it at least once. Llllllllenticularrrrrrrrr...
On Saturday, however, I'm making a day trip out towards Big Bear Lake to visit a friend and explore the area. I don't know much about the place, so if any of you have suggestions about things to check out there, I'm all ears. It may be an area with a lot of natural beauty, but the first thing that caught my eye is that they have a place called Super Bear Arcade. If there's one place I'm visiting, it's an arcade with the words "Super" and "Bear" in the name. I honestly can't think of a more patriotic way to spend some time this holiday weekend and you can bet your ass I'll return to you with some more details and pics of the joint.
I hope all of you find similarly funtastic ways to distract yourself this weekend. And hey, when you're done sharing your weekend plans in this blog thread, check out some of our Fourth of July articles:
The Underappreciated Art of Firecracker Labels:
http://www.i-mockery.com/minimocks/firecracker-labels
The Turtle Family Tries to Enjoy a Fourth of July Celebration:
http://www.i-mockery.com/minimocks/turtles-4th-of-july
Over The Top: An Important Film About Arm Wrestling, Truck Driving, and Love:
http://www.i-mockery.com/minimocks/over-the-top
(hey, it's the most American movie I've ever reviewed)
Now get out there and celebrate with some explosives or whatever floats your boat, because Malibu loves you.
19 comments
Leave a Reply
Previous post: Why The Virtual Console Makes Me Sad.
Next post: Ice Breakers PACS.