Reese's Pieces Going Bananas?
I'm sure you're wondering why there's a photo of a banana and a package of Reese's Pieces candies here. Well, in all honesty, I'm still wondering that myself. You see, I bought those Reese's Pieces the other day and something on the back of the package was quickly brought to my attention...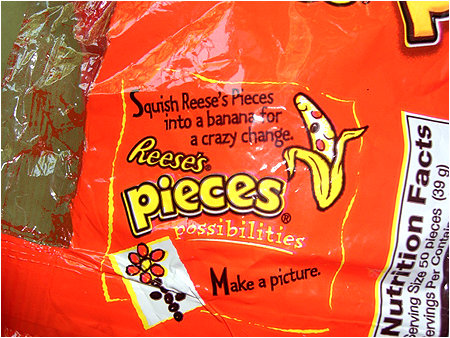 As part of their "possibilities" campaign, Reese's is apparently suggesting that we try new ways to eat their candies. You know, because eating them out of the bag like a normal human being is just too commonplace. So what's their brilliant idea? Add them as a delicious topping on ice cream? No. They want you to take the candies and combine them with a banana, or to be more exact, "Squish Reese's Pieces into a banana for a crazy change!" You know what? That really does sound like a "crazy change" if you ask me. So crazy that I just had to try it to see how cah-ray-zay it really was!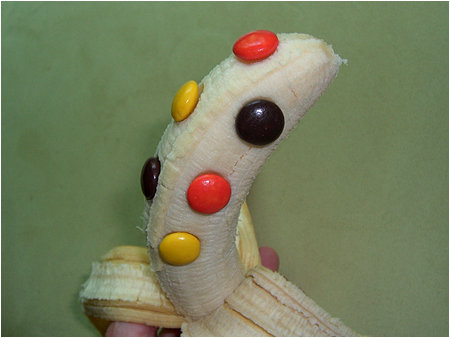 First off, squishing Reese's Pieces candies into a banana just feels wrong. When I was doing it, it was as if I could feel Mother Nature herself looking over my shoulder and shaking her head at me in disappointment. This is clearly not something that was ever intended to exist, and I fear I may have doomed the future of our planet by creating this abomination. But don't worry, I've suffered for my sinful scientific experiment, because I actually had to eat the thing. Well, I didn't have to, but I felt like it was my duty to erase the "crazy" Reese's Pieces Banana from existence. It was pretty awful. I love bananas. I love Reese's Pieces. Combine the two, and that love is quickly replaced with hate and confusion. The two just do not make sense, and the pieces have trouble sticking to the banana too. When they fall off, they just leave these orange, yellow and brown stains on the banana that look more like bruises. Bruises as if to say, "Shame on you, Roger! Look what you did! You HURT the banana!"
Oh sure, they try making up for it by giving you another one of their "possibilities" to have fun with, but after hurting that banana, I really wasn't in the mood to "make a picture" with the candies...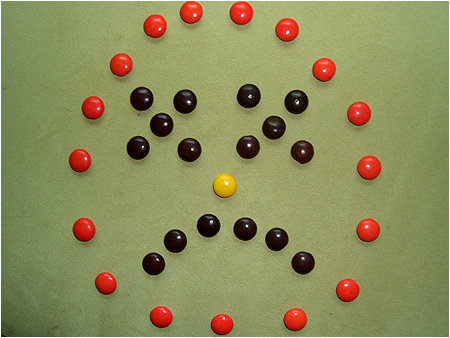 My heart just wasn't in it after I desecrated that banana.
Survey #1: Do you think the Reese's Pieces Banana looks appetizing in any way?
Survey #2: What are some other bizarre food combinations you've had? (and in case you're wondering, no, Chocolate Spaghetti doesn't count as an answer.)
117 comments
Leave a Reply
Previous post: Bad Band Name Trends.
Next post: In Which I Share The Fruits of My Labor.