The Midnight Ridazz Of Los Angeles. Plus, The Dark Knight & San Diego Comic-Con.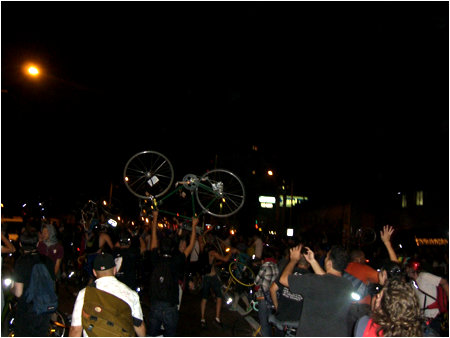 This past Saturday night, I went on my first bike ride with the Midnight Ridazz of Los Angeles for their latest "C.R.A.N.K. Mob" ride. Mind you, I haven't gone riding on a bicycle in years and I generally avoid any events that are spelled like "ridazz" or "rydaz", but the chance to ride all over the city on a bike with hundreds of other crazy people in the wee hours of the night is something I wasn't about to pass up. And I'm glad I didn't, because it was fun as hell and somehow I wasn't even sore the next day, which is surprising since we rode roughly 22 miles (probably not a lot for cycling . Some of the highlights included passing through a parking garage, riding through the Venice canals, seeing angry motorists who didn't appreciate the traffic we caused, stopping by a Vons grocery store which resulted in the bikers creating a line that went all the way to the back of the store since only one register was open, giving a girl dressed in a tiger suit a can of cat food that I purchased in the grocery store, and literally blocking off the entire street in front of the Santa Monica pier until the cops came and broke everything up. Thanks to my friend George who has a spare mountain bike I can use for now, I'll definitely be doing this again in the future.
Since no photos can really do the event justice, here's a lil' mix of video footage that I managed to take at various points during the night. The video is quickly thrown together, but it should help give you a better idea of what it's like:
Even with the video footage it's hard to really show you just how many people were there. If any of you are in Los Angeles (or close enough that you could ride your bike there), I highly suggest joining in one of the rides. Just check out the Midnight Ridazz site for a calendar of upcoming rides. If you want to see a map of the areas we covered on this most recent ride, click here.
And while we're on the topic of bikes, we went to see The Dark Knight this weekend (like the rest of the planet) at The Dome in the Arclight theater. If there was ever a movie that warranted a big theater like that, it's definitely the latest Batman flick. Suffice to say, I absolutely loved it and can't wait to see it again. Gonna try to see it in IMAX next. I'll save my more detailed thoughts on the film for the actual Weeklies discussion thread we have going for it, but I thought you Batfans might like to see some pics from the theater where we saw it. You see, in addition to a killer screen for the movie, they had the actual Batman and Joker costumes on display along with the new Batpod (Batbike) for all to see: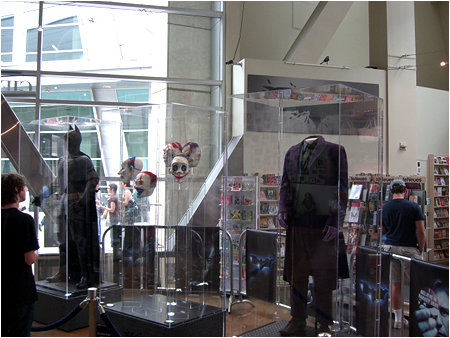 Wouldn't mind having these on display in my house. Then again, I wouldn't mind having a house that had the room for all of these either.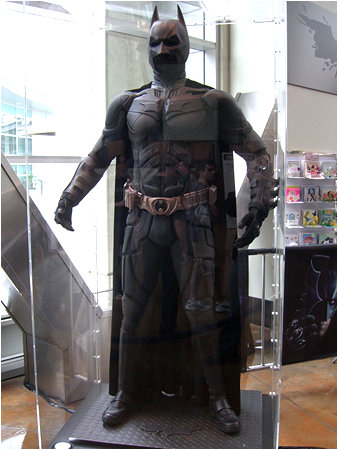 I think the new Batsuit is partially made of Tetris blocks.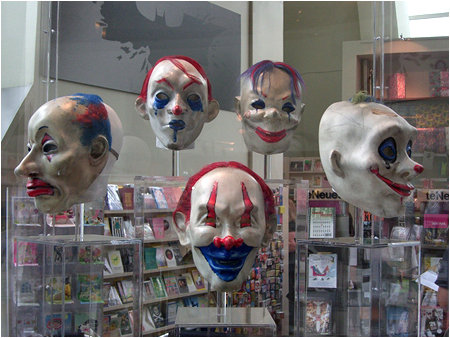 Why is there always one clown that has to be sad?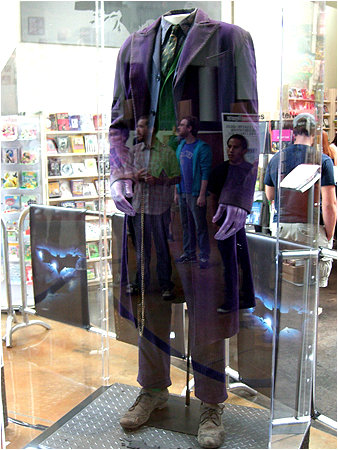 The Joker knows how to dress for success (excuse the reflections on the glass).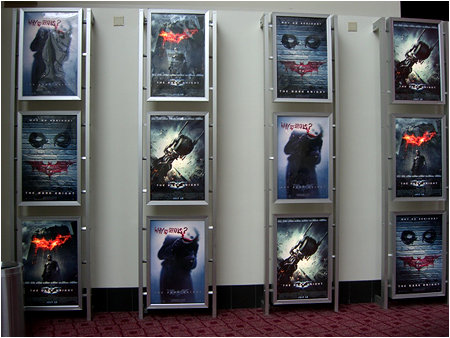 A nice display of all the posters before we went into the theater.

Once in the theater, they had the Batsignal projected onto the screen which was a nice way to build up our anticipation before the movie started.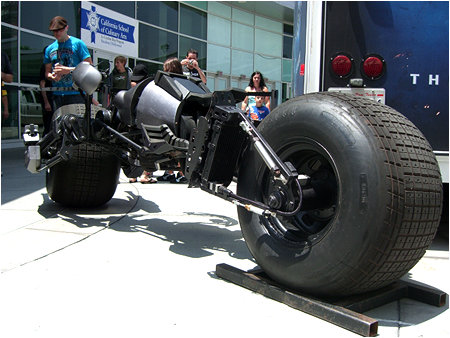 Screw my Amazon Wish List... THIS is what I want for Christmas, ok? Make it happen.
And last but not least, here's some video footage of the Batpod up close so you can see some more of the details on it.
Hey Warner Bros... if you guys are looking to get rid of the Batpod, I'll be more than happy to trade in my Honda Civic for it. I'd say that's an even swap, wouldn't you?
Survey: We've got the "Midnight Ridazz" here in Los Angeles, and I remember a similar club for scooter riders back in Richmond, VA... so how about your town? Do you know of and/or participate in anything like this?
Survey #2: So who here is gonna be at the San Diego Comic-Con this week? I'll be there once again this year, wandering the floors like I always do, so be sure to keep an eye out for me (can't say for sure whether or not I'll be wearing the Pickle hat, but you guys have seen enough photos of me on this site to know what I look like anyway). I always have some stupid lil' I-Mockery freebies to giveaway for those who do manage to find me amongst all the other hordes of conventioneers. And yes, for those of you who cant attend, you can rest assured that I'll be bringing you one of the most in-depth photo galleries of the event that you'll find anywhere on the web. Speaking of which, be sure to check out my photo galleries from previous years: 2007 - 2006 - 2005.
25 comments
Leave a Reply
Previous post: In Which I Share The Fruits of My Labor.
Next post: At The San Diego Comic-Con!