At The San Diego Comic-Con!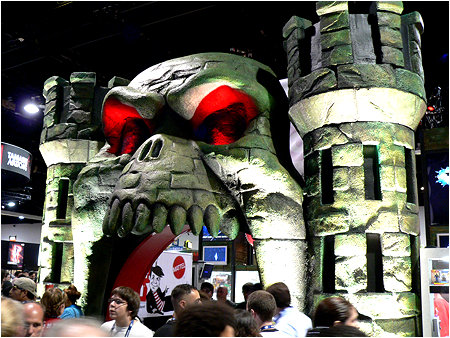 So we arrived at the Comic-Con and while I have no time to really say much, I thought I'd share this photo of Mattel's badass Castle Greyskull booth entrance. Just a little taste of the massive photo gallery that I'll be putting together and hope to have online by the end of next week. I've already taken a ton of photos that you guys are gonna love and I've also ran into some I-Mockery readers. If you're gonna be wandering around the convention during the next 3 days, be sure to say hey if you see me. I have a few lil' freebies that I'm handing out to people as usual.
Anywho, lots to do, so I'm gonna head off. I'll try to post a few more teaser pics over the next few days if time permits.
18 comments
Leave a Reply
Previous post: The Midnight Ridazz Of Los Angeles. Plus, The Dark Knight & San Diego Comic-Con.
Next post: Oh The Sights You'll See…