So When's The Earthquake Party?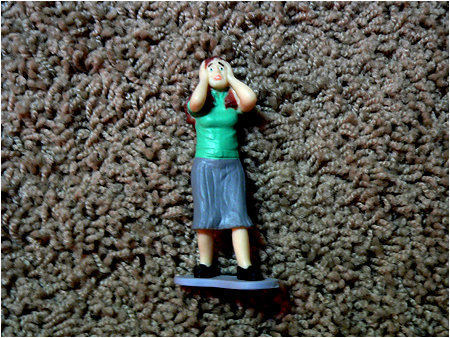 HELP! I'M BURIED UNDER A TON OF RUBBLE AND I JUST HAPPENED TO HAVE MY LAPTOP AND I THOUGHT THAT MY CHANCES OF BEING SAVED WOULD BE GREATLY IMPROVED IF I MADE A BLOG POST RATHER THAN TRYING TO CONTACT THE PROPER AUTHORITIES!
Yeah, yeah... I'm AOK, but thanks a lot to those of you who sent in concerned emails though. Man was that a weird feeling. The earthquake here in L.A. lasted a good 20-25 seconds and really shook the building I'm in like crazy. I was honestly surprised the power stayed on and nothing broke. A quick survey of our place showed that the ONLY thing to fall off of the shelves was this little figure of a horrified woman (from the Horrified B-Movie Victims figure set). Something about seeing the terror on her face as she lay helplessly on the floor after the earthquake just made me laugh out loud. Talk about a perfect landing...
Well now that the Graboids have stopped causing tremors beneath my feet, I'll return to my work.
Survey: Did any of you experience this earthquake too? Have you ever been in another earthquake or some kind of natural disaster before? If so, what was it like for ya? Share your stories!
68 comments
Leave a Reply
Previous post: Oh The Sights You'll See…
Next post: In Which I Reveal My Weakness.