Mega Man 9 Box Art Poster Giveaway!
UPDATE: Winners have been announced! Click here to see! (scroll to the bottom of the thread)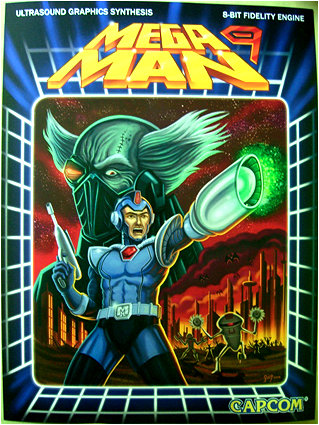 By now, I'm sure you've seen our big photo gallery from the 2008 "I Am 8-Bit" opening reception (if not, click here to see it). Well, in addition to getting to see all of that amazing video game inspired artwork in person along with the excellent chiptunes courtesy of Leeni, they were giving away Mega Man 9 posters. Now, for those of you who aren't familiar with the classic Mega Man games (and if you're not, you should remedy that as soon as possible), the series was notorious for having some of the most hilariously awful box art. Well, in celebration of the new Mega Man 9 game coming out on the Nintendo Wii Virtual Console, an artist by the name of Gerald de Jesus created the amazingly accurate retro-style box art for the game. I'm hoping Capcom will do a limited edition release of the game on classic NES cartridges, but I'm not gonna get my hopes up for that. Fortunately, I'll always have the poster for the game... and now some of you can too.
I'm giving away three (3) of these super snazzy Mega Man 9 posters, but in order to be one of the winners you need to come up with a new robot master. No you don't have to draw one (though, should you feel inclined, feel free to do so), all you need to do is simply come up with a name for the robot master and describe its unique abilities. For those of you not quite as familiar with the Mega Man series, I suggest checking this list to make sure your idea for a robot master hasn't already been done in one of the games. You can enter as many times as you like, just post your entries in this thread. We'll be judging these entries solely on creativity, so good luck!
This contest ends on August 26th, 2008.
UPDATE: Winners have been announced! Click here to see! (scroll to the bottom of the thread)
205 comments
Leave a Reply
Previous post: Rainbow Brite And The Star Stealer.
Next post: I-Mockery's 2008 Halloween Season Has Begun!