How Come The Creature From The Black Lagoon Gets No Respect?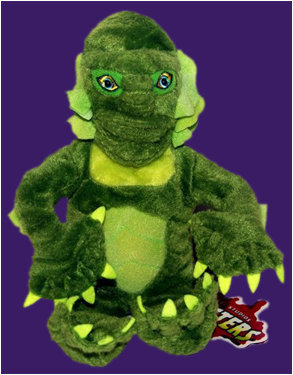 I feel bad for the Creature from the Black Lagoon. No really, I do. Sure, he's a famous monster 'n all... but when it comes down to it, he really doesn't get the kind of respect that Dracula, Frankenstein*, the Wolfman and The Mummy do. If you ask me, I think it's partially because of his epithetic name. He doesn't really have a name since Gill-man never caught on and I've always hated that name for him since gills aren't terrifying. Wolfman? Yeah, that's something you clearly don't wanna screw with. Gill-man? Sounds more like something your cat would have as a chew toy. Of course, "Creature from the Black Lagoon" which is quite a mouthful too, and if you shorten it to just plain old "Creature", nobody's gonna know what you're talking about. He really deserved a cooler name, but it's probably too late for that now. Sure, I still call him Lagoony from time to time, but I doubt Universal will do a modernized story about him featuring that nickname anytime soon (nor should they). I guess I just don't understand why they couldn't come up with a catchy short name for him like Swamp Thing had. And hey, speaking of Swamp Thing, that brings me to my next point...
Swamp Thing is a cool name because a swamp is an eerie place full of moss and creepy crawly things that rarely see the light of day. But a lagoon? Come on, you can't have a creature whose origins are from the same place as Brooke Shields. Oh wait, her lagoon was blue. Color the lagoon black or blue or whatever floats your boat, it's still a lagoon at the end of the day, and that's just not a word that instills any sense of dread in your average person. It could've been much more mysterious like "The Creature from the Black Loch" or "The Creature from the Black Abyss" or something along those lines. Furthermore, a lagoon isn't exactly a huge body of water. I could make up a monster and call it "The Creature from the Murky Stream Running Through A Portion Of The Woods Behind My House", but it's not really going to impress anybody.
Last, but certainly not least, there's no particularly amazing powers to the Creature, nor is there one official way to kill it. With Dracula you can kill him with a stake through the heart or sunlight, with the Wolfman it's a silver bullet, but the Creature? Well, we all saw Horace unload a shotgun on the Creature's chest in The Monster Squad and that finished him off real quickly. They tried blowing up the Wolfman with a stick of dynamite in that movie and he STILL came back. If you did that to the creature, you may have a lot of sushi on your hands, but no threat of gilled monster attacks.
I don't mean to make it sound like I don't like the Creature, because that's not true at all. He's honestly my favorite of all the classic Universal monsters. Maybe it's because I think he looks far more interesting than the rest, or maybe it's because I like rooting for the underdog, but the Creature... Lagoony... he's always been tops in my book. I just wish the people who own the rights to him would do something to give rise to his stature in the world of monsters. Because frankly? This kind of shit isn't helping: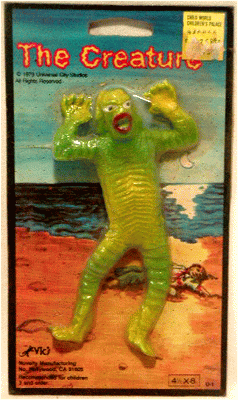 Yes, that's an actual rubber Creature from the Black Lagoon toy from 1979. My favorite Universal monster... made to look like a blow-up doll. The Creature from the Black Lagoon gets no respect.
Survey #1: What do you think could be done to improve the Creature from the Black Lagoon's reputation as a monster?
Survey #2: In your opinion, what other monsters don't get enough credit?
*or Frankenstein's Monster for you extra-picky horror fanatics.
51 comments
Leave a Reply
Previous post: Dracula Is A Pill Popper!
Next post: In Which My Hometown Stands Revealed.