Zombie Finger Puppets! Yes Indeed, You Too Can Finger A Zombie!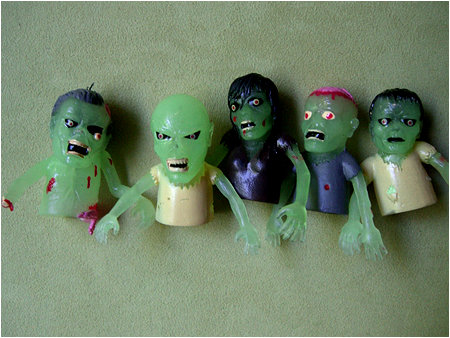 Yeah, I said it... so what? If you've got a problem with that, I have five new undead friends on my fingers that will gladly devour your beefy brains without even blinking. I stumbled onto these guys mixed in with a bunch of other cheap toys at one of my favorite novelty shops here L.A. and immediately fell in love with 'em. Unfortunately, nowhere on their rotting torsos does it say what company produced them, but a quick search on the Internet (oh Internet, what can't you do?) for "zombie finger puppets" turns up plenty o' results and it turns out they're made and sold by Archie McPhee. Anywho, being a big fan of those classic rubber monster finger puppets that we all know so well, I was happy to see these new zombie-themed ones... especially since they glow-in-the-dark!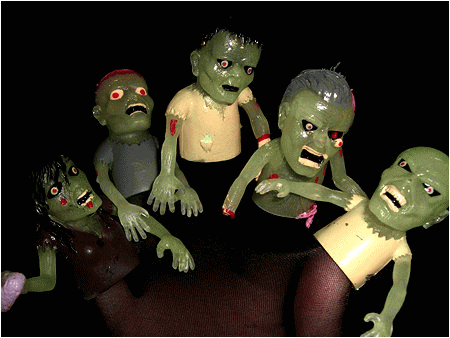 Don't let the camera shot fool ya, these zombies glow extremely well, and if you wear a black glove or cloth while using them in the dark, the effect works that much better. It may not seem like much, but it's the little things you stumble on during the Halloween season like these simple zombie finger puppets that make it all the better.
Survey: What are some of your favorite novelty items that only seem to come out during the Halloween season each year?
28 comments
Leave a Reply
Previous post: In Which My Hometown Stands Revealed.
Next post: What Shall I Be For Halloween?